But, uh, wait ... in that first panel, it says the guy "broke the record into four pieces." Record? What record? Let's look at the panels right before these: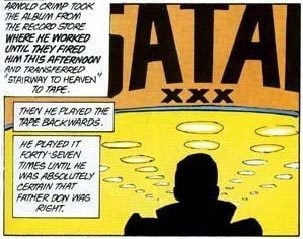 We weren't joking about the "whore" thing.
It turns out what inspired the shooter was a priest on TV talking about satanic messages in Led Zeppelin songs -- it has nothing to do with Batman. The last panel, with the newscaster saying this was a "Batman-inspired shooting," is the punchline. The killer never mentions Batman ... just like how James Holmes never called himself the Joker. That rumor came from the NYPD commissioner, but barring psychic powers, how would a New York officer know the details of an arrest in Colorado? But hold on, everyone knows Holmes dyed his hair orange to look more like ... the ... Joker?
Arapahoe County Detention Center, Warner Bros.
Wrong Arkham resident, pal.