Her grandmother tells her this can all be achieved by making a human man love her more than anything, so she sets out to do just that, going to see the sea witch of her own free will (instead of being tricked by a pair of eels like in the movie). The witch in this version isn't evil. She's very matter-of-fact about the commercial interaction they're about to undertake and its side effects, which are naturally a lot worse than in the movie: The mermaid will not only lose her voice and tongue to the witch, but she can never return to the sea. Every step with her new legs will hurt like walking on blades (though she'll weirdly also gain the ability to dance like no one's watching). Oh, and if the prince decides to marry someone other than her, she'll die.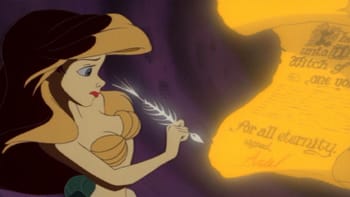 Walt Disney Studios
"Did you have to call it a 'sudden death' clause?"
The mermaid looks at these obstacles and doesn't give a single damn. She drinks the potion, enters the world of humans, and ... everything goes to shit, because otherwise we wouldn't have a compelling story. The prince falls for her for a while, but he wanders off to marry a random princess, having ironically mistaken her for the woman who rescued him from the sea.
Right as it seems that the game is over, the mermaid's sisters enter the fray. They too have visited the sea witch, and negotiated a deal in which they sold their hair for a magic knife that can return the mermaid back to, uh, a mermaid. All she has to do is kill the prince who broke her heart, and she can go back to living her life.
Edmund Dulac
So be thankful all your ex does is make passive-aggressive Facebook posts.