That is a talking animal with the intelligence, self-awareness, and emotional capability of a young child and/or adult YouTube commenter. OK, fine, we can leave his Scooby-snacks alone ... except that, have you ever seen a full blown horndog on a rampage? They develop an aggressive streak and lose interest in anything but getting their rocks off. Bear in mind, this isn't some dinky ass Yorkie waddling around with a red rocket. Scooby is a sentient Great Dane.
That's up to seven feet and over 200 pounds of uncontrollable, animalistic sexual thirst and destruction paired with a human-like brain. We have a word for someone with that behavior, and like most of Scooby's vocabulary, it begins with "R."
So yes, Scooby-Doo is more or less a werewolf sex offender with the IQ of a shoe. Can you neuter him? And how the fuck do you even broach that topic of conversation with him? And it's not like you can trick him into going to the vet and hope he forgets after a couple of weeks of g-g-ghost chasing. He knows. He knows.
Hanna-Barbera Productions
"You rook my ralls, Raggy! YOU ROOK MY RALLS!"
Best case scenario, you have a neutered Scoob breathing through a hose connected to the Mystery Machine's exhaust pipe. Worst, you have a canine Varys (with way more hair and a way lower vocabulary) silently plotting to strangle his "friends" one by one with Fred's ascot.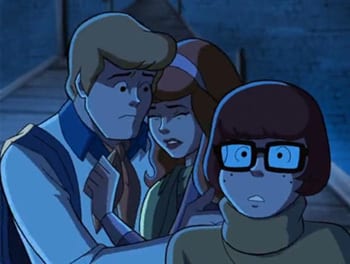 Hanna-Barbera Productions
Although, this would explain why people started disappearing in the later seasons.