Yep, somebody forgot to swap out the real bullets and an actor got fucking killed.
In the decades to come, "squibs" to simulate bullet strikes were around but still expensive, and action movies began to run ads boasting that they'd used real bullets, the same way Tom Cruise movies now go on and on about how he does his own stunts. The studios would hire marksmen, and they'd have to carefully plan shots so that actors weren't at risk even from a ricochet.
In William Wellman's 1931 gangster film The Public Enemy, James Cagney (and everyone else on set) swears they shot up this corner a split second after he ducked around it ...
Warner Bros.
Warner Bros.
Apparently they really had it out for Cagney.
... even though it seems like they could have easily created the effect with a clever edit. Then there's this shot, where a mirror gets shattered by bullets with two terrified children mere feet away. They ... wouldn't have used live ammo for that, would they? We're not sure, but the actors seem to be taking great pains to stand perfectly still: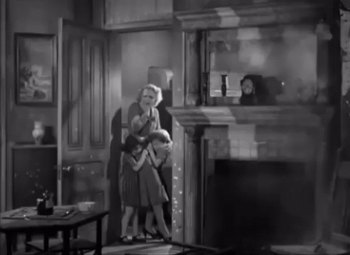 Warner Bros.
"Gun safety" were two words that weren't put together for another few decades.
A few years later, Cagney was nearly shot on the set of the movie Taxi! and declared he wouldn't work with live ammo ever again (he later helped found the Screen Actors Guild, which among other things cemented actors' rights to not be literally fucking shot at during productions).