These look like scenes from
Mr. Polanski's Neighborhood
.
At some point(s) in time(s), you become friends with a young woman, Cremia, and her younger sister Romani, both of whom look suspiciously like the rancher's daughter you saved back in Hyrule. So much so, in fact, that you really have to ask yourself if Link isn't working through some issues deep inside a medieval sanitarium.
Nintendo
Playing any
Legend Of Zelda
game counts as a college credit in Freudian psychology.
If you spend some time alone with Romani, she'll happily confide to you that her big sister is letting her drink a whole bottle of Chateau Romani, a potent beverage usually reserved for the rite of passage into adulthood. You have to get into a members-only club in a basement and wear a cow mask to drink it, so you know Chateau Romani's the stuff they usually reserve for adults and their naked painting parties. But Romani is Link's age, so it's a mystery as to why she's being given free rein to knock back the good stuff ...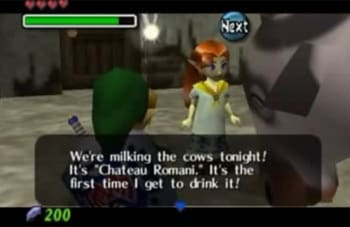 Nintendo
... until you realize that her sister is intentionally getting her hammered so she won't feel any pain when the apocalypse hits.
Cremia knows that the world is probably going to end -- the Moon's death mask of a face keeps getting closer and closer to the ground with every passing minute, so it's a reasonable assumption to make -- but little Romani is blissfully ignorant of this, something that can only be explained by how goddamned smashed she is all of the time.
Nintendo
"No no, that's the looming specter of alcoholism. Nothing to worry about!"