The James Bond series has a distinct formula, but that doesn't mean they're above ripping off other movies -- lest we forget the time they shot a 52-year-old Roger Moore into outer goddamn space, all because kids in the '70s seemed to dig that Star Wars movie. But you wouldn't expect the hard-drinking, syphilis-spreading secret agent to imitate a little kid, would you? Well then, you haven't seen Skyfall.
The Children's Movie It Copied:
Bizarrely, Skyfall seemed to take its cues from Home Alone, the cherished classic about the importance of family, Christmas, and sadistic violence. The inciting incident in both movies is the protagonist's fight with their mother figure -- Bond is angry that M had him shot, while Kevin is mad that his mom treats him like garbage for absolutely no reason.

Other than "He's a little psychopath."
Both Kevin and Bond are facing off against a ruthless and crafty villain who evades detection by dressing up as a police officer. Shame on those of you who said Skyfall's Silva was ripping off the Joker in The Dark Knight. They are both heirs to a much grander criminal mastermind: Harry of the Wet Bandits.

Left: why an entire generation distrusts police.
Just because the protagonists' lives are in danger is no excuse for bad grooming, though.

The difference is that when Bond screams, it's from the painful genital warts.
Eventually, our hero's only recourse is to lure the villains to his childhood home and booby trap the shit out of it. Of course, stupid James Bond never even considered popping by a Toys 'R' Us to pick up some Micro Machines.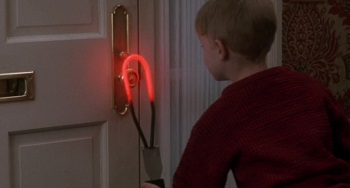 Or he thought of it and decided even he has a limit.
Then they wait, gun in hand, for the bad guys to show up.

Now we understand why Bond looks at the camera and says, "Guess I'm ... home alone" with a wink.
Despite being outnumbered, the protagonists manage to cause massive physical damage to their enemies through their cleverness and complete disregard for human life. Both their plans even involve secretly leaving the house to go to a second location -- Bond takes a secret tunnel to the property's church, while Kevin ziplines to his tree house.