6 Movies For Adults That Sure Seem To Crib Kids' Movies
Movies made for adults and movies made for kids seem to serve completely different purposes. The former seek to move, thrill, shock, and inspire, while the latter are just something you can set 10-year-olds in front of for two hours so they'll shut up. And yet, sometimes you can pick up a "mature" film and a family-friendly one and realize they're telling the exact same fucking story.
We've previously demonstrated how famous kid's movies have been influenced by more adult stories. But influence (or "ripping off older movies in a whole other genre" -- whatever you wanna call it) is a two-way street. For example ...
Kingsman: The Secret Service Is Harry Potter With Guns
The Movie For Adults:
Kingsman: The Secret Service tells the story of a top-secret spy organization which trains a plucky young juvenile delinquent to become a top-secret agent. It's basically an R-rated riff on the kind of '60s spy movies that starred Michael Caine, long before he entered the "using his British accent to make the premise of a Christopher Nolan movie sound less insane" phase of his career.
And sure, there's a lot of James Bond in there, too, but Kingsman seems to be retreading some ground covered by that other blockbuster franchise from merry old England ...
The Children's Movie It Copied:
It's totally Harry Potter, but with more bloody rampages and anal sex. Both the Harry Potter saga and Kingsman begin with the protagonist enduring life with their terrible families. Harry's living with the dickish Dursleys, while the hero of Kingsman, Eggsy, is contending with the shittiest stepparent outside of a Disney movie.

You know Kingsman offers a grittier look at Britain because not everyone wears a bow tie.
Each protagonist is then visited by a mysterious stranger who tells them they have a secret potential they can help unlock -- Hagrid in Harry Potter and Harry Hart in Kingsman.

"Yer a potential government-sanctioned serial killer, Eggsy."
Sure, the "mysterious character comes to change the protagonist's life" trope is an old one ... but in this case, both proceed to best some bullies who have been hassling the protagonist, and both do it with a freaking umbrella. Hagrid's is concealing a magic wand, and the other is secretly a machine gun.

The wand has more respect for the laws of physics.
This strange man then takes our young protagonist through a secret passage hidden in plain view ...

Fantasy movies being the only place where this can happen without it being horrifying.
... and they end up in a picturesque country estate which houses an elite secret school to hone amazing talents. Yep, we're officially in "future J.K. Rowling lawsuit" territory now.

At least Kingsman kept the "students measuring sticks" moment off-camera.
At the school, the protagonist clashes with a cocky douchebag and his two sleazy sidekicks, whose assholeness is only accentuated by their ties.

If you're in England and you see a blonde guy and two brown-haired ones coming, hide your lunch money.
Naturally, our unlikely hero ends up saving the world. The main difference is that in Kingsman, this is accomplished by exploding all the bad guys' heads -- which probably would have happened in Harry Potter too if those kids had known the spell for it. Oh, and Eggsy is given a pair of glasses in the end, because why be subtle at this point?

Now use your magic to change your name to something less stupid than "Eggsy."
Skyfall Is Home Alone With More Sex And Drinking, And About The Same Level Of Brutal Violence
The Movie For Adults:
The James Bond series has a distinct formula, but that doesn't mean they're above ripping off other movies -- lest we forget the time they shot a 52-year-old Roger Moore into outer goddamn space, all because kids in the '70s seemed to dig that Star Wars movie. But you wouldn't expect the hard-drinking, syphilis-spreading secret agent to imitate a little kid, would you? Well then, you haven't seen Skyfall.
The Children's Movie It Copied:
Bizarrely, Skyfall seemed to take its cues from Home Alone, the cherished classic about the importance of family, Christmas, and sadistic violence. The inciting incident in both movies is the protagonist's fight with their mother figure -- Bond is angry that M had him shot, while Kevin is mad that his mom treats him like garbage for absolutely no reason.

Other than "He's a little psychopath."
Both Kevin and Bond are facing off against a ruthless and crafty villain who evades detection by dressing up as a police officer. Shame on those of you who said Skyfall's Silva was ripping off the Joker in The Dark Knight. They are both heirs to a much grander criminal mastermind: Harry of the Wet Bandits.

Left: why an entire generation distrusts police.
Just because the protagonists' lives are in danger is no excuse for bad grooming, though.

The difference is that when Bond screams, it's from the painful genital warts.
Eventually, our hero's only recourse is to lure the villains to his childhood home and booby trap the shit out of it. Of course, stupid James Bond never even considered popping by a Toys 'R' Us to pick up some Micro Machines.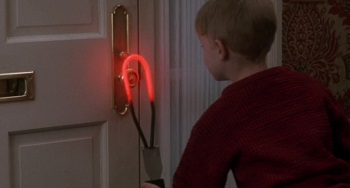 Or he thought of it and decided even he has a limit.
Then they wait, gun in hand, for the bad guys to show up.

Now we understand why Bond looks at the camera and says, "Guess I'm ... home alone" with a wink.
Despite being outnumbered, the protagonists manage to cause massive physical damage to their enemies through their cleverness and complete disregard for human life. Both their plans even involve secretly leaving the house to go to a second location -- Bond takes a secret tunnel to the property's church, while Kevin ziplines to his tree house.

Both are giggling maniacally the whole time.
In the end, the stranger our hero was super suspicious of (Ralph Fiennes in Skyfall, Bearded Creepy Neighbor Man in Home Alone) turns out to be a trusted ally and new friend.

The connection continues with Home Alone 2 and Spectre, after Bond has sex with a homeless bird lady.
The Purge: Anarchy Is A Fucked-Up Version of Adventures In Babysitting
The Movie For Adults:
The Purge: Anarchy showed us what the night of the Purge actually looks like out on the streets of a city (in this case, Los Angeles), not just in Ethan Hawke's suburban McMansion. You might assume that the ultra-violent story of legalized murder couldn't possibly be based on a family movie that didn't have the name "Wonka" in the title. And yet ...
The Children's Movie It Copied:
Remember Adventures In Babysitting, the '80s family movie that found a bunch of cloistered suburban kids terrified by all the nonwhite faces of urban Chicago? It's the same movie as The Purge: Anarchy, but replace the irrational fear of black people with the completely sensible fear of everybody in the world of The Purge. In both movies, characters end up stranded in the scary, scary city after their car breaks down.

This is a death sentence in LA even outside of the Purge.
Both feature a gang of hapless people being led through the streets by one capable leader -- Frank Grillo as the badass ex-cop in The Purge, and Elisabeth Shue as the badass babysitter leading her kids through the dangerous maze of barrel fires and homeless people in Adventures In Babysitting.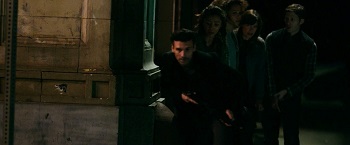 We have to assume that they've both killed people.
Both groups end up dragged on a stage against their will -- at a blues club in Adventures In Babysitting and a murder club in The Purge. Note: The white kids in the friendly blues club are far more terrified.

It was the '80s, so they'd never heard music without synthesizers.
Both groups escape some bad guys by sneaking into the subway.

Traditionally a safe and friendly place when you're in a strange city at night.
Also, both groups feature a plucky young girl with a case of hero worship. In The Purge, Cali follows an internet revolutionary played by The Wire's Michael K. Williams, and in Adventures In Babysitting, Sara adores every child's favorite comic book character ... uh, Thor? Seriously? OK, Thor.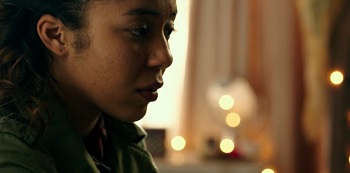 "My top three is Thor, Lyman from Garfield, and Betty's dad from Archie."
And in each of the movies' third acts, who shows up to save the group from certain death? That same hero.

Unfortunately, no one yells "Odinson comin'!"
And speaking of Thor ...
Thor Is A Less Christmassy Version Of Elf
The Movie For Adults:
Marvel's Thor: He's like Superman, if Superman got super into '80s hair metal. Despite the fact that no one except for the little girl in Adventures In Babysitting seemed to really give a shit about Thor, he got his very own movie in 2011. And sure, it's not exactly Cannibal Holocaust, but it's much more "for adults" than a holiday favorite like ...
The Children's Movie It Copied:
Anyone who's ever turned on a television during the month of December has probably caught Elf, starring Will Ferrell as one of his many sheltered manchild characters -- this time because he was raised by Santa's elves, and not as a product of our painfully infantile culture. Take Christmas out of the equation, and the two movies are pretty similar. Both begin in a wondrous fantasy land ruled by a benign, bearded patriarch.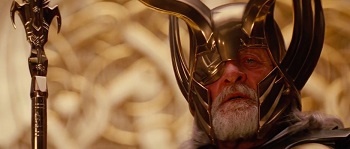 Santa's beard is larger than Odin's, so he'd probably win in a fight.
Hell, both magical worlds even feature elves. Both Thor and Buddy the Elf magically travel to our world, where they don't understand simple things like cars ...

Due to their unfamiliarity with our culture, they both tragically miss an opportunity to say, "I'm walkin', here!"
... or how to behave in a coffee shop.

To be fair, this seems to elude a lot of "normal" people who frequent coffee shops.
They both meet a human love interest who inexplicably puts up with their antics.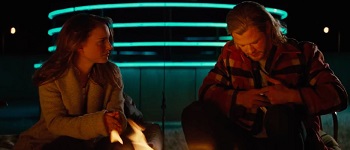 It's less inexplicable once the love interest sees their wicked abs.
They each eventually save the day. Buddy fixes Santa's sleigh, while Thor defeats some kind of dumb robot thing. In doing so, he reveals his true nature to his love interest.

The women prove it's true love by not immediately dumping them upon seeing their costumes.
Of course, Buddy ends up saving Christmas, whereas Thor effectively ruins it by merely existing, thus proving that Norse mythology is the one true religion and that we should all stop fooling ourselves with the "Christ's birthday" thing.
Ghost Is A Less Adorable All Dogs Go To Heaven
The Movie For Adults:
Ghost, the '90s tearjerker, starred Patrick Swayze, Demi Moore, and the true breakout star: Erotic Pottery Making. You wouldn't think that the borderline necrophiliac love story between a lady and the ghost of her dead boyfriend would be cribbed from a kid's movie but, well, here we are.
The Children's Movie It Copied:
Ghost shares a lot in common with All Dogs Go To Heaven, the cartoon by Don Bluth -- whom you might remember as the guy who introduced the concept of "trauma" to a generation of kids in the '80s. Both movies get right to the point, showing the protagonist getting whacked by a shadowy hoodlum within the first few minutes.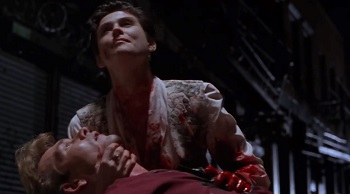 Shocking every mom who rented All Dogs Go To Heaven thinking the title was a random platitude.
After coming back to our mortal plane, both protagonists find a female character who can magically communicate with them -- an orphaned girl who can somehow talk to animals, and Whoopi Goldberg, who can hear Patrick Swayze's ghost but not see him, presumably because she's secretly Guinan from Star Trek: The Next Generation.

Because if she could see ghosts, this movie would be unrealistic.
The two hatch a plan to use that power to turn the bad guy's evil scheme against him. The little girl is being used by the villain to get inside info at the racetrack, so they bet against him and clean up. Similarly, Whoopi empties Swayze's murderer's secret slush fund from the bank. Both of them even show up in purple jackets and ridiculous hats.

Whoopi forgot the mustache.
In the end, both ghosts confront their murderers ...

"OK, I've seen enough people in the shower. Let's get this over with."
... which inadvertently leads to the villains' deaths. Of course, All Dogs Go To Heaven didn't impale the guy with a giant shard of glass, but that's probably Bluth figured the doggie hell sequence was traumatizing enough already.

The '90s were a great time for villains getting impaled.
Then, in the final scene, the hero ghost says goodbye and slowly walks into the glowy, magical afterlife.

Apparently, the afterlife is the "Take On Me" video.
The Revenant Is A More Intense Version Of Milo And Otis
The Movie For Adults:
A blood-soaked tale of revenge based on the true story of a guy who merely wanted to get some of his shit back after a dumb accident. Leonardo DiCaprio stars as Hugh Glass, who survives a brutal bear attack to avenge his son's killers. And no, we're not going to try to argue that this is some kind of fucked-up interpretation of A.A. Milne's Winnie The Pooh stories.
The Children's Movie It Copied:
This may sound ridiculous, but stay with us. The Revenant, the tale of a grizzled trapper lost in the wilderness, is a lot like The Adventures Of Milo And Otis, the story of two cuddly animals lost in the wilderness. Things are OK at the very start of both movies; Leo's son is still alive, and Milo and Otis (a kitten and puppy best friends) are chilling out on a farm.

Above: mass hysteria?
Things go to hell, though, when Milo and Otis venture away from the farm and Glass ventures away from his expedition -- both suffer horrifying bear attacks.

The subtext in these scenes is bears = fucked (but not literally -- that was a rumor).
What follows in both cases is a crazy survival adventure wherein the heroes (Milo and Glass) try to trek back home through the wild, enduring nature's harsh obstacles. Milo doesn't sleep inside any disemboweled animals, but they are animals, so, you know, close enough.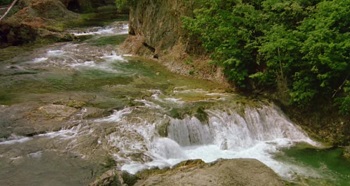 Both feature a dickish waterfall among the antagonists.
The movies flow similarly; between the action, we cut to beautiful shots of landscapes and clouds. Put a blue filter on the Milo And Otis shots, remove the Dudley Moore narration, and boom, you've got yourself an art film.

The Revenant's director tried to get Mandy Moore for the narration, but no luck.
Along the way, both Milo and Glass make unlikely friends from different worlds who help them scavenge for food. Or potentially are food, we guess.

That pig is totally the Tom Hardy character, though.
The climax of each movie finds a hero (Otis and Glass) venturing into the woods during a blizzard on a crazy mission -- of course, one is bloodthirsty revenge and the other is to save a kitty cat, but you get the idea.

You think Leo waited a long time? It's been 210 dog years since this movie, and no Oscar for that pup yet.
The biggest difference between the films may be behind the scenes. The Revenant set was famously intense, probably because they didn't have a litter of identical Leonardo DiCaprios on set in case things went south. As far as we know.
J.M. McNab co-hosts the pop culture nostalgia podcast Rewatchability, which can also be found on iTunes. Follow him on Twitter @Rewatchability.
Also check out 7 Movies That Are Secretly Sequels To Other Famous Films and 6 Movies That Inadvertently Remade Other Movies.
Subscribe to our YouTube channel, and check out Why Action Movies Are Musicals For Dudes , and other videos you won't see on the site!
Follow us on Facebook, and let's be best friends forever.
Scroll down for the next article