It's like they think Shrek hindered their name recognition or something. Nobody has held this kind of a grudge on something that did them good since ... man, it's hard to think of examples of being mad at something that brought you money and fame.
Twitter
"You're looking kind of dumb with your finger and your thumb in the shape of an 'L' on your forehead."
And look at the dates on those responses. It's like they've got an intern whose job is to find tweets about Shrek and alert them so that they can formulate replies. Or worse, they're doing it themselves.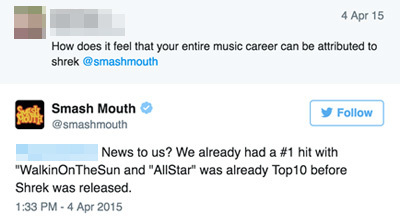 Twitter
"I need to get myself away from this place."
You can practically feel Steve Harwell banging his fists on his desk, crying into the keyboard and shouting, "Two Number Ones! Two Number Ones!" This entire campaign of musical self-defense hits the same two talking points over and over: that they had half a dozen hit songs, and that they were all-stars before the movie came out. Six hit songs for a 20-year career is a lot, you guys.