9 Hidden (And Insane) Star Trek Background Details
We've criticized the new Star Trek film series in the past, what with its distractingly shiny surfaces, overabundance of cliff-hanging scenes, and surprising number of Beastie Boys songs. (At least Nickelback isn't a bastion of Earth culture 200 years from now.)
And hey, if Star Trek Beyond craps the already-poop-stained bed of 21st-Century Star Trek movies, fans will have no choice but to turn to the classic movies and shows for comfort. But even those beloved properties have plenty of bizarre shit going on in the background. For example ...
Commander Riker Refuses To Sit Down Properly
Commander Riker from Star Trek: The Next Generation has many obvious character traits, such as playing the trombone, being successful with the ladies, and having a beard. There's one crucial part of his personality you may have missed, though: He sits down like a maniac. Instead of lowering himself into a chair, the way most human beings do ...

"Can I interest you in some '90s computer software?"
... he swings his gargantuan legs over the top of the chair, mounting it like it's a Shetland pony. He even gets up in the same fashion:

How many toilet water tank lids has he broken doing this?
While the in-universe explanation may be a side effect of some kind of salt vampire STD or whatever, the real-life reason is reportedly that actor Jonathan Frakes suffered a back injury in his youth. This would also explain why Riker is constantly leaning on things and resting his leg, even when it means awkwardly positioning his junk inches away from Data's face.

"Good God, Riker. We have sexbots for that."
Smoking Is Apparently A Big Problem On The Enterprise
The Utopian future people of Star Trek don't seem to fall victim to many vices (unless they're aliens, because this show is really xenophobic). Despite this squeaky-clean facade, at least one filthy habit appears to have survived into the 23rd Century: smoking. If you look closely, in some scenes you can just make out No Smoking signs on the bridge of the Enterprise.

The "No Shirt, No Shoes, No Service" sign was there to keep Kirk in check.
Yup, smoking's such a problem that even the bridge crew needs to be reminded not to light up while operating the flagship of the Federation. There's even a sign in the transporter room advising you not to smoke while your body's being disintegrated. Did they get tired of having to kill the resulting Jeff-Goldblum-esque tobacco monsters?

"Yes, that counts as an extremity, Kirk."
Of course, with replicator technology around, maybe we should be thankful that no one was easing the pressures of exploring the galaxy with mass quantities of black tar heroin, or holing up in their quarters doing dilithium crystal meth. Or worse, vaping.
You Can Totally See Characters Going To The Bathroom
Probably the grossest (non-sex-related) Star Trek mystery we've all at one point pondered: Where the hell are the bathrooms on the Enterprise? Have people in the future evolved to not produce bodily waste? Are Starfleet uniforms equipped with adult diapers? Do they have their piss and shit beamed out of their bodies and into Romulan space?
Well, we're here to solve this longstanding mystery: Yes, they have bathrooms. On the Next Generation bridge, it's at the back to the left, through a door which you can barely make out reads "HEAD."

There was a "head" room in Kirk's ship, too, but it was for something else.
You can see it more clearly on the ship's blueprints, which we assume you all own, possibly in bed sheet form. But in case you don't, here it is, undeniable proof of the Enterprise's shit closets:

Not sure whehter that's the toilet or Picard seen from above, though.
The best part is, now that you know exactly which hallway leads to the crapper, you can keep an eye out for anyone ducking out to tinkle between Borg attacks. Like this dude:

With the Captain saying "Number One" all the damn time, we can't really blame him for having to boldly go.
All The Men In Skirts Serving Aboard The Enterprise One Day Disappeared
Countering their egalitarian stance with their "wanting to look at women's bodies" stance, the original Star Trek made all the female officers wear uniforms with miniskirts. Sure, it's nice that Earth is free of war and famine, but why does our space program have to act like an intergalactic Sterling Cooper? The answer, of course, is "because the show was made in the '60s." By the time The Next Generation rolled around in the '80s, however, they tried a more progressive approach:

Patrick Stewart was supposed to wear a mini too, but his "plasma cannon" kept showing.
Instead of all the female officers wearing skirts, now some of the men were showing off their gams. It's a nice vision of gender equality in the future, but here's the messed-up part: They all disappear. The later seasons of the show feature no skirt-wearing men. So what happened? Did Worf or some other official express discomfort at the revealing nature of the Enterprise uniforms? Did they all get their pants back from the cleaner's at the same time?

Did they start serving beans at the cafeteria?
This also means that, when you watch later episodes of the show, a good portion of the male crew members are likely being repressed, forced to conform to a surprisingly uptight 24th-Century idea of masculinity. Some "Utopia!"
One Random Crew Member Was Inexplicably Immortal
It takes a whole lot of crew to run a starship, mostly because the Enterprise has a higher death rate than Westeros. A recurring crew member in the Original Series was a rugged fellow who was even given a name: Lt. Leslie.

He looks more like a Susan.
The odd thing is, Lt. Leslie takes on a James-Franco-like amount of random jobs: working in engineering, at the helm, as a security officer, in sick bay, operating the transporter, etc. -- sometimes in the same episode. He's also seen taking command of the ship a couple of times, so we can add "warming Kirk's seat with his butt" to his long list of obligations.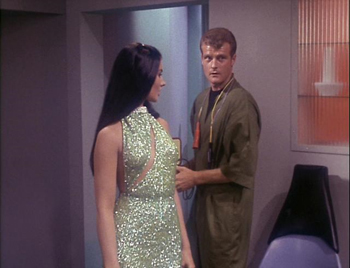 "Dammit, Jim, I'm a doctor, mechanic, bodyguard, mortician, accountant, tennis instructor ..."
Like most random crew members, Leslie eventually gets killed on an away mission ...

Should have gone with the blue shirt that day.
... but unlike most crew members, later in the episode, he's walking around the ship again, very much alive. He actually lived on to star in other episodes, like the one in which he gets turned into an alien paperweight.

He made a less stylish paperweight the time he got frozen.
Obviously, Lt. Leslie must be some kind of god ... that, or there's some bullshit behind-the-scenes explanation. Turns out the script for Leslie's "death" episode had a scene where he's miraculously saved, but it was cut, presumably because no one gave a shit. And the reason Leslie's life was spared, and why he can do any job on the ship? As you may have inferred from the distinctive shape of his head, the actor was William Shatner's stand-in. So he was already hanging around, ready to be shoehorned into any scene.
Uh, Was Captain Picard Fucking His Sister-In-Law?
At a certain point, Star Trek: The Next Generation got pretty stupid. Case and point: the episode "Rascals," in which the writers took the premise of the Tom Hanks movie Big, reversed it, then presumably left work at 11:15. The episode finds a few members of the crew being de-aged into children, then mainly complaining about how shitty being a kid is. Absolutely no one is excited by the fact that they've accidentally discovered the secret of immortality, and no one's crankier than Li'l Captain Picard.

Patrick Stewart ever having hair is the most unrealistic idea in this franchise so far.
While this episode is clearly dumb as all hell, it has one key point of interest. If the actor playing young Picard looks familiar, that's because he also played Picard's nephew Rene in the earlier episode "Family." So Captain Picard's brother's kid looks exactly like he did -- not vaguely, like an uncle and a nephew, but exactly.

Except for wearing different wigs.
That's ... suspicious. Picard seems to be meeting his sister-in-law for the first time, but only in front of Rene -- for all we know, they could have met and had an affair years ago. This would also inform the movie Star Trek: Generations, in which Picard is fucking destroyed by the news that his nephew is killed, because he never had a son of his own. Or not one he legally recognized, anyway. We may never know for sure, but it certainly looks as though the stupid Muppet Babies-esque episode was trying to tell us something about Captain Picard's wandering libido, doesn't it?

"If only I had a clone. Surely, that wouldn't turn out even stupider."
The Holodeck Is A Goddamn Deathtrap
The Holodeck: It's the magic room that can materialize anything you could possibly imagine as lifelike holograms. On the plus side, you can live out your wildest fantasies. In the negative column, it constantly tries to murder you.

Like some sort of "Room of Danger," or something.
The Holodeck is frequently breaking down, coming to life, or allowing ancient literary characters to seize control of the ship. But that's not even the creepiest thing about it. In one of the first episodes to feature it, Captain Picard and some other, frankly less important people become trapped while playing a silly detective game. As Wesley Crusher (the small boy who is in charge of rescuing the captain, for some insane reason) is frantically working on the control panel, Riker suggests simply turning off the power, to which Wesley responds:

"That's awful. Hey Wesley, wanna visit the Holodeck later?"
"Everyone inside could vanish"? Outside of a Chumbawamba concert, how could a group of people in one place up and disappear from our existence? The explanation is that, while the characters and setting are created using holograms, objects people interact with, such as food and water, are created by matter replication. And what happens to that matter when the Holodeck is turned off? It's destroyed. Otherwise, all the half-eaten meals and drinks would make the place look like a grade-school cafeteria.
So every time the crew goes into the Holodeck for a wacky diversion, they're risking getting "deleted" if there's a power outage. Man, that Holoporn must really be something.
Sulu Has A Surprising Number Of Lethal Hobbies
Actor and internet meme factory foreman George Takei played Mr. Sulu, the Enterprise's helmsman and chief hobbyist. For some reason, Sulu had an extensive array of pastimes -- and they were all dangerous as hell. In his very first episode, Sulu is introduced as an amateur botanist. Unlike the kind of "amateur botanist" your friend who dropped out of high school became, Sulu has a large collection of bizarre and deadly alien plants, one of which saves his life by emitting an ear-piercing scream to scare off a vampire alien.

It was either some kind of rich allegory for Vietnam, or we have to admit that this show was dumb as hell sometimes.
When he wasn't tending to his grow-op, Sulu was probably working on his fencing -- which he famously got to show off not heroically, but by attacking random crew members in the episode wherein everyone gets space madness and acts like goddamn maniacs.

If you know space madness is a thing, maybe take up chess or something?
Then there was the episode in which the crew lands on a planet where their fantasies come to life (it was TV, so no Kirk/Spock slash). Sulu, though, reveals yet another favorite side gig: collecting ancient Earth firearms. Which is dangerous enough as it is, but in this case, means he magically conjures a revolver:

Magic fantasy planets are second only to the U.S.A. in their lack of gun control.
In a flagrant "fuck you" to Chekhov (the playwright, not the ensign), the gun isn't used, and is merely confiscated by Captain Kirk in the end. Sadly, the show was cancelled before we got to the episodes about Sulu's carnivorous bacteria pets or his nuclear warhead collection.
A Staggering Number Of Starfleet Admirals Are Pure Evil
While you might expect the top tier of a Utopian goodwill army to be a bunch of ponytailed, tie-dye-wearing peaceniks, looking back at the Star Trek franchise, Starfleet has a tendency to promote murderous shitheads. Back in Star Trek VI: The Undiscovered Country, Admiral Cartwright's Machiavellian scheme involved kick-starting a war against the Klingons and framing Kirk for murder, basically out of racism. And this wasn't some random higher-up: Cartwright was also the admiral in Star Trek IV: The One With The Whales.

So he was guilty this time.
Then there's Admiral Jameson on The Next Generation, who shows up to negotiate a hostage situation on a warring planet. First off, we find out he was supplying weapons to one side, then realized he shouldn't be doing that, so to even things out, he started supplying weapons to the other side -- "causing 40 years of civil war". To make matters worse, he's taking an alien de-aging drug which makes him extra insane and then fucking kills him, because it seems having terrible judgement is a prerequisite for becoming an admiral.

He blooms into a beautiful redhead in the process, though.
There was Riker's former commander, who's secretly guilty of war crimes, all the admirals looking to ruin Data's life by stealing his daughter or killing him to create a slave race of androids, and the list goes on. Even in the most recent movie, who was the bad guy? Khan? Nope, the real baddie was Admiral Robocop.

So that Star Trek game where an admiral has you murder innocent doctors was dead-on after all.
If the vast majority of Starfleet's higher-ups are murder-obsessed psychos, maybe they should let the Borg have their way with humanity and be done with it.
J.M. McNab co-hosts the pop culture nostalgia podcast Rewatchability, which can also be found on iTunes. Follow him on Twitter @Rewatchability.
Also check out 8 Needlessly Insane Moments From 'Star Trek' and 5 Horrifying Implications Of The 'Star Trek' Universe.
Subscribe to our YouTube channel, and check out Why The Star Trek Universe Is Secretly Horrifying, and other videos you won't see on the site!
Also, follow us on Facebook, and let's be best friends forever.