"Where d'ya light this thing?"
While the show was primarily a prequel, it was bookended by scenes set in the '90s, where we see Indy the way we never wanted to: as an angry, senile old man. In the first episode, he's hanging around a museum (presumably yelling about how all the artifacts in the museum belong in a museum), where he promptly frightens and threatens to "clobber" two young children. To be fair, at this stage in his life, youths are way scarier than Nazis.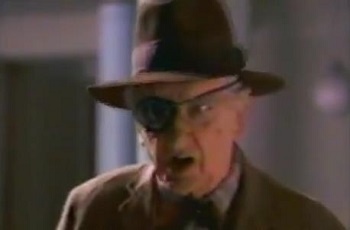 Lucasfilm
Lucasfilm
Then he punched a Latino kid, yelling "You will not betray me again, Satipo!"
Indy then forces the kids to listen to a story from his youth -- but not one of the awesome ones about the Holy Grail or the Ark of the Covenant, because these little jerks don't deserve them. This setup is how most of the episodes play out: Old Man Indy just starts reciting stories to anyone who will listen as he runs painfully banal errands. One involves Indy arguing with, then hitting on, a female postal worker.