The Jungle was shut down in 2014, but San Jose is currently trying to figure how to house the 7,000 homeless people in the area. Like most cities, the area has its fair share of people with mental problems and drug issues who just can't keep it together in mainstream society. But Silicon Valley's homeless population also includes bus drivers, carpenters, medical clerks, and caterers who can't afford San Jose's average rent of 2,633 clams per month.
So, what's a working man or woman who can't afford to move to Middle America do? Some of the bus drivers who shuffle Apple's workers between their suburban homes and glitzy offices end up sleeping in their cars between shifts. Others don't have cars, so they opt for the next best thing: sleeping on a bus every night.
Nhat V. Meyer / Bay Area News Group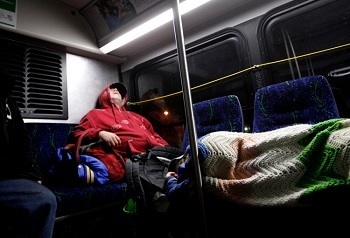 Nhat V. Meyer / Bay Area News Group
Which is absolutely the most depressing case of taking your work home we've ever heard.