Sometimes producers were explicitly asked for anti-drug episodes, like when Chicago Hope, your mom's favorite '90s hospital drama that didn't star George Clooney, dug up an old script about a mass overdose at a rave that had previously been rejected for being irredeemably terrible. The ONDCP also reviewed scripts to portray drug use "accurately" (read: hyperbolically ruinous).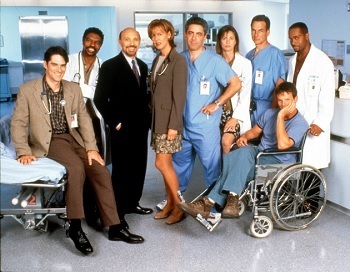 20th Century Fox Television
Kids who go to raves would obviously view these characters as authorities on the subject.
The number of shows with anti-drug messages tripled after the ONDCP started their initiative, but everyone involved insisted that this was all a complete coincidence. "We just happened to realize drugs were terrible at the exact same time this bag of money arrived!" Hollywood said, unconvincingly. Obviously, the initiative was a bust: After a few years, the ONDCP analyzed their data and cancelled the program, concluding only that they had vastly overestimated the persuasive power of Tim Allen.