And, of course, the after-party: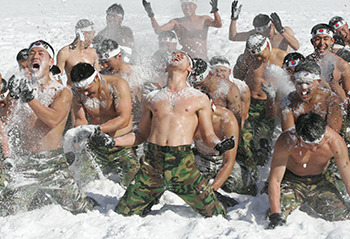 Chung Sung-Jun/Getty Images News/Getty Images
This is right after they were told the Jonas Brothers were coming to perform.
They even throw snowballs at each other's bare chests as part of the training, because South Korea is deeply committed to its reputation as the quirky little brother of the Koreas.
This type of training isn't exclusive to South Korea, though: Chinese soldiers go to the border of Russia in sub-zero conditions to conduct similar drills, but with more dick-shrinking intensity and less snow-hurling frivolity.
China Photos/Getty Images News/Getty Images
"Tire hurling is just as much fun."
The trainees crawl through the snow half-dressed, and they even bring along swords, because only a true champion can wield a decorative weapon in a forest of Christmas trees.
ChinaFotoPress/Getty Images News/Getty Images
Nuclear winter is coming.