If you think that sends a bit of a mixed message about the group's feelings toward the gay community, allow us to introduce you to La Manif Pour Tous, arguably the largest and most popular group of "traditional marriage" crusaders in France.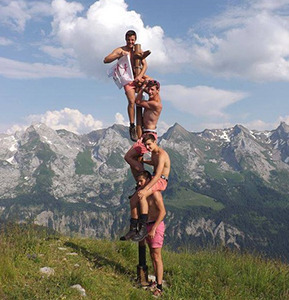 La Manif Pour Tous Facebook, via The Wire
"Protest traditional marriage? Shit, we thought you said, 'Mostest sensational man bridge.'"
That's them, perched atop each other's shoulders as if a horny billionaire said, "Bring me a dick the size of four men. No, a dick made of four men." That photo, along with the dozens of others featuring equally homoerotic horseplay, is intended to promote traditional family values. Maybe by seducing men away from their husbands? By setting the bar of homoeroticism so high all gays give up? Is it a culture gap? Can the message behind a stack of shirtless men in pink shorts really change so much over a single ocean?
Jean30081992
Apparently, flagdick is also culturally specific.
The point we're trying to make is that teabagging your shirtless pal's neck on a giant wooden pole isn't the most direct way to get your anti-gay agenda across. And to make matters worse, this organization has inadvertently doomed itself. Because of the way the French government defines homosexuality, you are legally gay the moment you're three men up a half-nude man pole. That means 40 percent of La Manif Pour Tous members are protesting themselves by the time they're done with each group picture.
Speaking of which ...