To give some context: France legalized same-sex marriage in 2013, and there has been more opposition than one might expect. Groups like Hommen and La Manif Pour Tous (The Protest For Everyone) regularly demonstrate with tens of thousands of supporters against the equal rights of gay citizens. Hommen is a direct response to the Ukrainian feminist organization Femen, which is known for writing slogans on their bare chests to garner more attention for their message. Likewise, the boys in Hommen like to write messages about how terrible gay people are ... on their own exposed, luscious abs. While ... sometimes wearing masquerade masks, homemade ball gags, and exceptionally colorful pants.
If you think that sends a bit of a mixed message about the group's feelings toward the gay community, allow us to introduce you to La Manif Pour Tous, arguably the largest and most popular group of "traditional marriage" crusaders in France.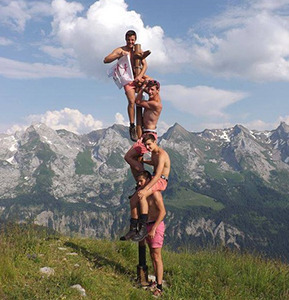 La Manif Pour Tous Facebook, via The Wire
"Protest traditional marriage? Shit, we thought you said, 'Mostest sensational man bridge.'"
That's them, perched atop each other's shoulders as if a horny billionaire said, "Bring me a dick the size of four men. No, a dick made of four men." That photo, along with the dozens of others featuring equally homoerotic horseplay, is intended to promote traditional family values. Maybe by seducing men away from their husbands? By setting the bar of homoeroticism so high all gays give up? Is it a culture gap? Can the message behind a stack of shirtless men in pink shorts really change so much over a single ocean?
Jean30081992
Apparently, flagdick is also culturally specific.