When forced to live with complete strangers, wolves will unsurprisingly form hierarchies to establish some sort of pecking order -- but, that's simply not how it works in the wild. Mech, realizing his mistake, has spent years trying to quash the myth and begging the publisher to stop reprinting his book that originally made it famous. More recent research reveals that wild wolf packs are basic family units, and the "alpha" is just a wolf who found a lonely lady wolf to bone. Then, they had some pups that will, one day, go off to do the same.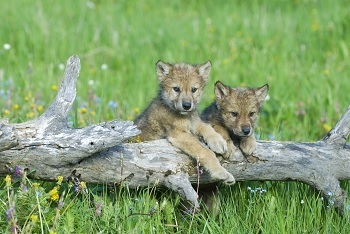 JohnPitcher/iStock/Getty Images
"I am an assmaster, like my father before me."
And those brutal dominance displays? Well, that really only happens around feeding time. Turns out, it's just the parents keeping their older pups from, er, wolfing down all the food before the younger siblings have gotten their share. So, it's not evidence of a brutal society run by violence -- it's just Dad making sure everybody gets a slice of pizza before the dickhead big brother goes in for seconds.