According to Head, she was working at Merrill Lynch on the morning of September 11th when the second Boeing 767 plowed into her floor. A desperate colleague made a dying request for her to return his wedding ring to his wife. Head agreed, being the heroine that she was. She descended the stairs with the man's ring, and she passed out. She claims she was then carried to safety by Welles Crowther, whose name is hyperlinked there because he's an actual 9/11 hero who sacrificed himself in the process of saving at least a dozen lives.
So Head was miraculously saved, receiving only minor burns to her arm. Unfortunately, her beloved fiance (and in some tellings, husband) Dave wasn't so lucky. He died when the other tower collapsed. And with that, her story now officially had everything: tragedy, action, romance, near-misses, a hero, villains ... if she'd gained some powers in the process, you'd have a pretty solid superhero origin story there. It's no wonder that her tale galvanized the public to the plight of 9/11 survivors, and was hailed in the NY Daily News, The Journal News, Time, and elsewhere.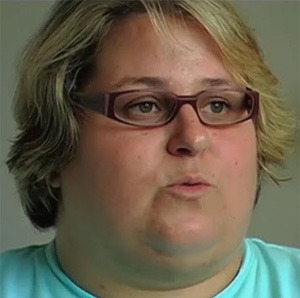 Investigation Discovery Network It's a tale so amazing, fact-checking it would be like drawing a dick on the Mona Lisa!