6 Creepy Details That Were Almost In Classic Disney Movies
Even the finished versions of Disney films can be dark as hell at times. But if you've ever wondered why gruesome deaths and existential horror were allowed into the final cut, well, that's because you didn't see the shit they left out.
Here are six deleted moments that were wisely kept away from your innocent eyes. Well, at least until now.
Peter Pan Was Almost a Woman-Abducting Psychopath
Beloved since 1953, Peter Pan is a flying man with the body of a boy who takes children on adventures with him. But did you know in the first draft, he was actually a little bit creepy?
The Original Pitch:
Disney's original concept for the opening of Peter Pan deviated wildly from J.M. Barrie's source material. Instead of beginning with the Darling family in London, the movie was going to open in Never Never Land with Peter Pan making peace with Indians.
With no Indians to fight, the Lost Boys wanted Peter to take them to the real world to hear real mothers tell real stories.
Peter Pan knew sneaking seven kids into a family home and convincing their mother to put on a show for them was risky, so he came up with a better plan: kidnapping. That's not a joke or an exaggeration. In the first draft, he actually pulls a knife and shouts the words, "COME ON, TINK -- WE'LL GO TO THE REAL WORLD! AND KIDNAP ONE!"
Tinkerbell is fully on board with this plan, and they fly to the real world to kidnap a woman ... with a knife. Once they've broken into the Darling home, Peter cuts the rope off their curtains to restrain Wendy. Tinkerbell does her part by sprinkling her with fairy dust -- you know, the magical substance that makes it easier to subdue women?
Peter sneaks up to a child's bed to watch her sleep, hissing, "Pretty -- isn't she Tink?" It would be outrageously creepy even if he wasn't holding a rope and knife over her face with plans to kidnap her sister.
Unsurprisingly, someone at the Disney company realized that all this was fucking horrifying, and Walt Disney "toned down the idea of kidnapping Wendy," going back to the original version of the story in which Wendy was eager to see Never Never Land. It really set a precedent for all animated films to not begin with a forced abduction at knifepoint by a madman.
Bambi Almost Stumbled Upon a Human Corpse
The Disney classic Bambi, based on a children's book written by a part-time pornographer, taught a generation of kids that their parents could be killed and their homes burned to the ground at any moment ... which may explain why everyone over the age of 30 has seven different apocalypse survival plans.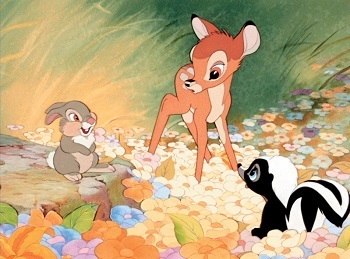 The Original Pitch:
It's not unusual for a Disney character to end up an orphan, but it was a little weird that nothing bad happened to the guy who straight-up killed Bambi's mom, right? Well, in an early draft, that asshole got his.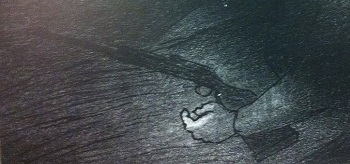 Bambi was originally meant to stumble upon not only his mother's corpse, but the charred remains of the man who killed her, burned to death in the fire he started. This was cut from the film because unless you're his cryogenic pod, Walt Disney doesn't think you should contain any mangled dead bodies.
Though this wasn't the last time Disney tried to wedge in a hardcore lesson about the horrifying inevitability of death ...
Stitch Was Almost an Animal-Killing Asshole
Lilo & Stitch was the story of a little Hawaiian girl teaching a space monster about family and Elvis impersonations. Spoiler alert: Both of those things are important and joyous.
The Original Pitch:
There was one scene scrapped from the finished film, for reasons that are about to become clear, where Lilo befriends a cute little fish.
Stitch is apparently a huge dick, so he takes one look at this unnatural union and smacks the fish out of Lilo's hand.
You might be thinking this is some kind of misunderstanding. Maybe Stitch was trying to smack it back into the water where it can breathe and live a life unmolested by little girls? No. Not even close. The fish flops against the ground and is immediately mauled by seagulls. Lilo rushes to help, and she is mauled by seagulls.
So what was Stitch's motivation? Why break up a girl getting to first base with a fish? Why watch both of them get torn apart by birds? Why any of this!?
Lilo survives, but the fish didn't even come close. Lilo goes through both stages of fish mourning:
There was meant to be another scene later where Stitch learns about death and how murder works.
It would be a depressing, horrifying scene for any movie, let alone a Disney cartoon. Shit, at least when Bambi's mother was killed, there were no dickish aliens laughing at her.
Alice in Wonderland Almost Had a Live-Action Child Predator
Disney's 1951 adaptation of Lewis Carroll's beloved Alice in Wonderland inspired a generation of kids to take drugs or explore strange holes in the ground, or probably both.


The Original Pitch:
Rather than a straight adaptation of Carroll's classic book, Walt Disney took a stab at a hybrid of live-action and animation, entitled Alice and the Mysterious Mr. Carroll -- a particularly creepy title given the molesty rumors that have dogged Carroll's legacy.
This story took place in the real world, focusing on the friendship between a real-life Alice and Mr. Carroll, whose real name was Charles Dodgson. There would be animated sequences where Alice would visit Wonderland, but when she came back out it, it was right back to the strange live-action, grown man following her around.
To try and veer away from any indication that Dodgson was up to something inappropriate, Walt Disney wanted to cast Cary Grant as Dodgson. Handsomeness is apparently the best shield against accusations of child molestation.
To further shield Dodgson from any kid-touching vibes, Disney decided to give the character a love interest. This way, he wouldn't, and we quote, " look like a queer." Job done! The guy has an adult girlfriend and a nice bone structure, so it won't look weird if we have him hanging around a little girl all throughout the movie, right? Well, that wasn't the only weird stuff going on in the film's treatment.
The treatment was written by Aldous Huxley, known best for writing Brave New World. His 14-page outline included all kinds of disturbing scenes like this one where an abused Alice is locked in a room and starts imagining inanimate objects are her friends from Wonderland.
Because the main character was going insane, Huxley also wanted to devote a significant amount of the movie to a realistic discussion about the nature of insanity. It ultimately ended up being too dense for anyone to understand without a degree in child psychology, and it was scrapped in favor of the more traditional adaptation -- something anyone can understand after the right amount of drugs.
Simba Was Almost a Lazy Piece of Shit
It was Hamlet with cartoon lions featuring the music of Elton John -- a collection of objectively wonderful things that came together to create something even wonderfuller. It was the story of Simba, the lion prince, adventuring with singing animals and returning a hero. However, in the first draft, Simba was very close to being a worthless, entitled trust-funder.


The Original Pitch:
Instead of a character-defining journey filled with catchy songs, the original script called for Simba to be only slightly better than pointless. He just sort of hung around the kingdom being a "lazy, slovenly, horrible character."
Simba's uselessness was due to the manipulations of Scar (who was a baboon in this version) so he would be easier to overthrow. Fortunately, the screenwriters realized that having an unlikeable character who does nothing except get manipulated only works on reality TV. They instead decided to go in a much more Disney direction: killing his parents and sending him off on his own.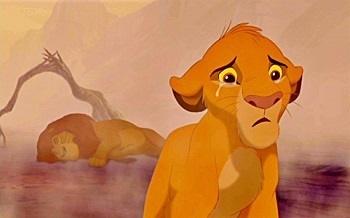 Up Almost Ended Like The Shining
Most of Up was a delightful adventure with balloons and talking dogs. However, the first 10 minutes are as heart-wrenchingly tragic as anything put to film. So if they left that in, what could they have possibly chosen to cut?


The Original Pitch:
The film's creative team couldn't quite figure out how to dispatch of the movie's villain, Muntz. We mean, how do you get rid of a villain in a children's cartoon? Seagulls? A forest fire? Magic acid? Dressing them like a little girl and leaving them near Lewis Carroll? No, we've established none of those are appropriate. Well, add one more to the list: one of the ideas for Up's ending took its inspiration from The Shining.
The idea, and let's be clear it wasn't a good one, was for Muntz to chase after Kevin the bird into a labyrinth of rocks. Just like Jack Torrence chasing Danny through the maze, Muntz would madly and obsessively chase Kevin, eventually wandering the labyrinth "forever."
They decided to go a different direction. Sure, every kid loves an homage to classic cinema, especially the psychological horror genre, but they went with Muntz just falling to his death. In a kid's movie, it's much better to crush a villain with impact velocity than to crush their soul with existentialism.
J.M. McNab co-hosts the pop-culture nostalgia podcast Rewatchability which can also be found on iTunes. Follow him on Twitter @Rewatchability.
For more children's entertainment that should be rated R, check out 5 Grossly Inappropriate Jokes Hidden in Children's Cartoons and The 6 Creepiest Things Ever Slipped Into Children's Cartoons.
Are you on reddit? Check it: We are too! Click on over to our best of Cracked subreddit.
Spread some appreciation for history, click the Facebook 'share' button below.