In the trailer for Batman V Superman, we see Clark Kent and Bruce Wayne meet for the very first time at a swanky party. It's a tense conversation in which they insult each other's alter-egos while simultaneously trying to out-handsome each other.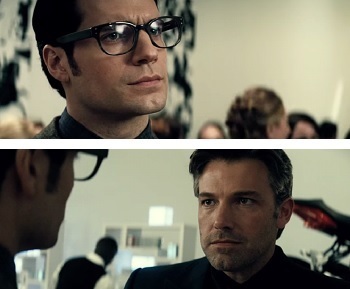 Warner Brothers Pictures
It takes all of Superman's strength not to get sucked into the black hole in Bruce Wayne's chin.
The Comic Book Origin:
In the first Batman-Superman team-up, back in 1952, things went down slightly differently. The historic first meeting between the world's greatest superheroes starts with Batman getting undressed with Robin. Not in the Batcave, mind you, but in a bedroom in a mansion that's just filled with other bedrooms one of them could have used.
DC Comics
The real question is: Can Batman withstand being away from Dick for so long?
Bruce announces he's going on a cruise vacation while Robin visits his relatives upstate ... which is weird, because if he has nearby relatives, why the hell is Robin living with some wealthy stranger?
Coincidentally, Clark Kent is also taking a vacation, and bafflingly elects to take the same cruise ship as Bruce, despite possessing the ability to fly absolutely anywhere in the world instantly and for free. And guess what: The ship's so crowded, he's forced to share a cabin with Bruce.
DC Comics
"Look, it's either Wayne or the cast of Family Circus. Your choice."