But should you, gentle Floridian, be afraid? The snakes may not have attacked anyone in the Everglades yet, but many people have been injured and killed by the Burmese pythons they kept as pets. And members of the current wild population have been known to spoil picnics, eat pets, and take a dip in backyard swimming pools. Just remember: The snakes that are currently loose in the wild are descendants of our former prisoners, and it's only a matter of time until their numbers grow large enough that they can storm your Miamis and your Tampas, using their bifurcated tongues to hiss something about exacting revenge in the name of their discarded forefathers.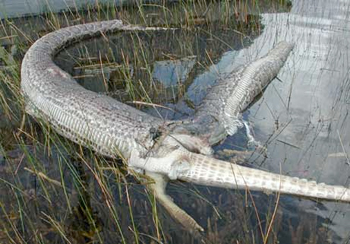 South Florida NRC, via National Geographic
Answer: It explodes, because reality can't contain that much shityourpantsness.