Yamamoto also defies physics to create 3D sculptures out of the same fine, powdery dust that we can't even manage to wipe completely off the kitchen counter, much less carefully stack into a quarter-scale model of that stairway from The Lord of the Rings.
Motoi Yamamoto
It comes in pre- and post-earthquake versions. Seriously.
We can't imagine putting half the amount of effort into raising a child, much less a tiny salt maze ...
Motoi Yamamoto
He makes slugs solve this maze. If they touch the walls, they die.
... that will be utterly destroyed after only a few weeks. Yamamoto doesn't just invite the audience to completely annihilate his artwork -- he insists that they tromp through his delicate lines like a bunch of well-seasoned Godzillas.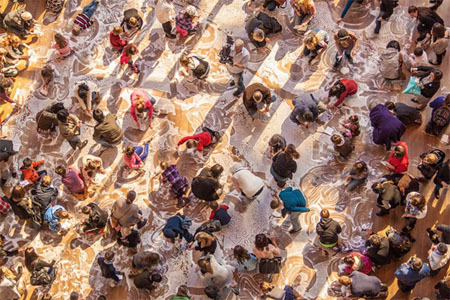 James Martin/The Mint Museum
Again, this only makes sense if he's marinating victims for his giant spider pet.