Wait, What?
K-Y Jelly, your grandmother's favorite lube, is a standard tool for movie special effects.
Alien had a lot of subtle and not-so-subtle sexual imagery laced throughout, but one piece of sex paraphernalia you probably didn't notice was the veritable ocean of K-Y Jelly it took to make the film. According to cast and crew in the making-of documentary, everything from puppets to people was absolutely covered in a thick, dripping layer of bone-lube. If you were scared of Xenomorphs as a child, you might be relieved to learn that their disgusting toxic spit was merely the result of some special effects guy dumping the entire contents of a tube of K-Y into its mouth. You may actually be less than relieved to hear that, now that we think about it.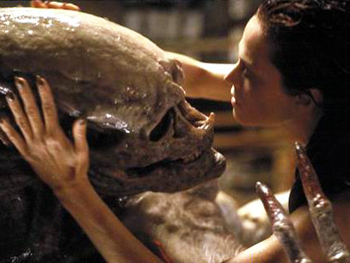 20th Century Fox
In space, no one can hear you cream.
But it wasn't just Alien. Remember the glowing neon-green blood from the Predator franchise? That wasn't a post-production effect -- Predator blood is a simple combination of K-Y Jelly and the liquid in glow sticks. The glow faded fast, so they kept cases of K-Y on hand to keep that movie magic rolling. And in John Carpenter's The Thing, virtually every monster was slathered in K-Y, giving the film its unsettlingly wet look. If something in a movie is gooey, slimy, and terrifying, it's probably K-Y. Hey look, K-Y -- a new tagline for your commercials! You can thank us later. Via cash.