Struck by a stray bullet, Walt takes one last nostalgic stroll around the meth lab before dropping dead. Man, who could have seen all of that coming?
AMC
Calling it "thematically inevitable" doesn't count as predicting it, Dan.
Why We Should Have Seen It Coming:
You, if you'd paid attention. Because the entire plot is revealed at the beginning of the episode. In the opening scene, while Walt is searching the glove compartment of the car he stole to go back to New Mexico, a cassette tape falls out: "El Paso," by Marty Robbins.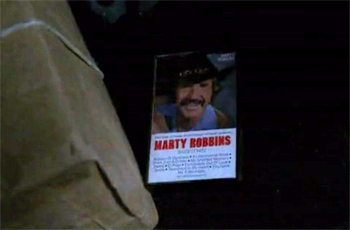 AMC
Robbins also sang the hit "Ti Pol," which played during the show's pilot.
Walt pops it into the tape deck and drives off, and check out what the lyrics are predicting for him:
I saddled up and away I did go, riding alone in the dark.
Maybe tomorrow, a bullet may find me.
Tonight nothing's worse than this pain in my heart.