Yes, applying the corrupter opens the Pandora's box of misshapen nightmares hidden deep below Sesame Street. Muppets warp and jitter, their speech turns into demon hate language, and your childhood dies a violent death.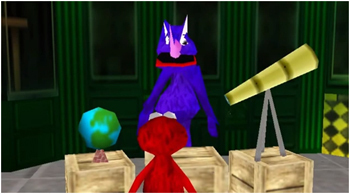 Via YouTube
"Hi, Grover! What letter does 'dog' start w-"
"EMBRACE THE DARKNESS, MY CHILD."
As the first round of tears begins to exit your face, the Dark Muppets spew poetry of the damned in a sound not unlike Slayer lyrics sung underwater, while Elmo appears to understand every word. All the Muppets your childhood mind remembers from the PBS show are replaced by entities so evil that Death himself rejected them.
Via YouTube
Actually, this is precisely how we remember Big Bird.
And Elmo just strolls happily through it all, having long ago lost his sanity.