Well, apparently nobody told the firefighters about that last one, because that's exactly what they've built. Here, friends, is a firefighting grenade: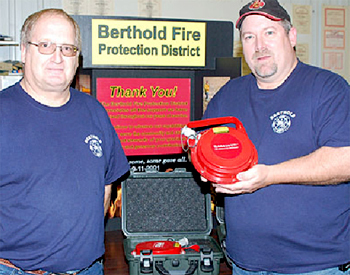 Kenmarend.com
Or possibly the carrying case for the world's most badass See 'N Say.
It's called FIT-5, which stands for fire interruption technology ... five. And we're not taking liberties with the analogies; it truly is deployed exactly like a grenade. You pull a pin, toss it into whatever area is currently on fire -- your house, your yard, your neighbor Russell (man, we told you not to) -- and a few seconds later FIT-5 explodes in a cloud of gaseous potassium carbonate, smothering the fire. As you might imagine, the device works best in smaller, enclosed spaces, making it ideal for use in building fires, or just for making an extremely memorable exit from virtually any party.
Fireapparatusmagazine.com
"An entire catering table and no shrimp? Fuck this bar mitzvah, I'm out."