Taking advantage of a massive government publicity campaign promoting their nuclear testing activities, residents and officials didn't hesitate one bit to redub the town "Atomic City." The nearby nuclear testing was hyped as just another Vegas tourist attraction. Showgirls donned mushroom cloud swimwear. Curious visitors pressed as close to the explosions as they could without fear of pistol whipping, and many hotels hosted "dawn bomb parties" where revelers drank the night away while waiting for the detonations to light up the sky in an apocalyptic fireworks display.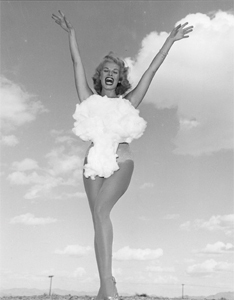 Via Vegas.com
This is Miss Atomic Bomb 1957. And no, that's not a joke.
Unfortunately, all good things must come to an end, and when "downwinders" started complaining of ill effects from all that pesky atomic fallout, it marked the beginning of the pooping of Sin City's atomic party. Nuclear testing was forced underground in 1963, and eventually the site ceased testing altogether.
No word on whether Vegas' atomic craze just sort of quietly petered out or if they sent the era off with one final bang, but we're going to assume that they celebrated in much the same way military officials celebrated the end of the "successful" atomic pummeling of Bikini Atoll during Operation Crossroads back in 1946 -- with delicious mushroom-cloud-shaped cake. Never let it be said that The Man doesn't know how to celebrate mankind's ability to wreak horrifyingly godlike destruction with class.
Via Wikipedia
It was iced with vanilla butter cream and filled with undiluted fear.