Each country chooses the artist that best represents its musical culture, or, barring that, has the most rockin' titties on display. These groups compete, all of Europe gets a chance to vote, and the winner presumably never has to compete in Eurovision again. You'd think this was all a bit pointless, like a grade school student body election: Won't every country just vote for itself?
But sometimes the results surprise you, as happened with Azerbaijan and Armenia in the 2009 Eurovision competition. Now, those two nations have been at each other's throats ever since they invented nations and throats (uh ... sometime back in the early '90s). No way in hell were citizens of one country voting for another. And for the most part, that was correct. But 43 Azerbaijanis bucked the nationalist trend and were so moved by Armenia's song that they picked up their phones and voted for the enemy.
Oleg Nikishin / Getty
Wouldn't you?
In any other time, in any other place, this is where the ability to give a shit politely leaves the room, hops a Greyhound, and starts a new life somewhere far, far away. But not this time. This time the Azerbaijan security forces pulled the phone records to find out who some of these pop-traitors were and called them into police stations for questioning. The musical rebels were accused of being unpatriotic, and were even deemed "potential security threats" by the Azerbaijan authorities.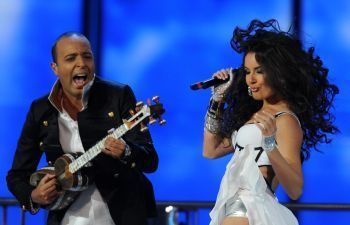 AFP / Stringer / Getty
"Not loving this is equal to terrorism."