So, the Justice League goes out on an emergency mission, leaving the Technician by himself to tighten doorknobs or whatever, when villainous super-genius The Key invades with an army of robot henchmen. However, The Key fails to account for the Justice League's trusty janitor, a man in a Craftsman onesie packing a villain-thwarting Craftsman Bolt-On Tool.

Which still leaves him at least 80 percent more menacing than Aquaman.
The sequence of events that follows proves that either The Technician really does have the handiest tool in the universe, or that The Key is the worst super villain ever conceived (or that both of these truths collided on a timeline of Fate to bring us the plot of this comic).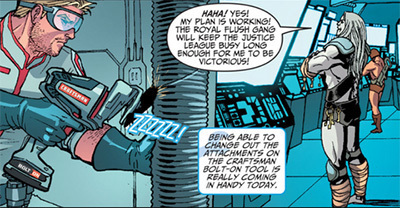 "I don't even know what this tube is for."
Armed with nothing but his rugged looks and a motorized hand tool with multiple attachments, The Technician manages to repeatedly irritate The Key and send a distress signal out to the Justice League, because apparently nobody in this organization carries a cell phone.

Wow, learn how to finish a sentence, The Key.
The Key and his battalion of robot soldiers are inexplicably powerless to stop a man running around the base with a power drill, giving The Technician ample opportunity to show off the many applications of the Craftsman product, such as drilling through panels and unscrewing things.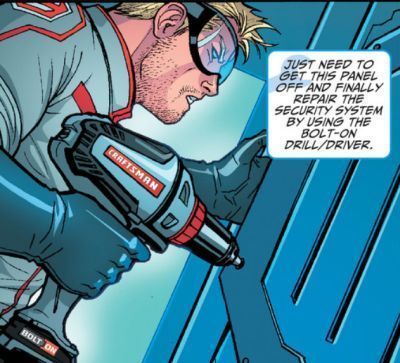 "DRILLS FIX ALL ELECTRONICS!"