Wow. OK.
So, males of different animal species use ploys like expansive antler racks and outrageous plumage to attract the opposite sex, but sometimes the females get adaptations for courtship display as well. Female Celebes crested macaques (Macaca nigra) seem to have developed a feature that cuts to the chase. They exploit an anatomical area that humans have only recently begun to celebrate with the advent of Sir Mix-A-Lot's discography.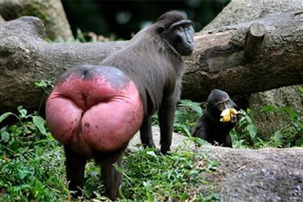 AP
Cracked Fact: Sir Mix-A-Lot actually received his knighthood for his work in the field of taxonomy.
There are a number of primates that boast unusually large, colorful posteriors, such as baboons. But for sheer bulbous, horrible, in-your-face assy-ness, crested macaques are without rival. Found only on two islands in Indonesia, these monkeys are often mistaken for apes due to the apparent lack of a tail. They do indeed have tails -- it's just hard to tell with so much other stuff going on.
Tony Northrup
"Just once I'd like a scientist to study me for my personality."