Where It Gets Really Creepy:
It's not long before Edward Claus strips off his Santa suit and puts the "non-consensual" in "non-consensual sex":
The man smirked and stepped forward making Bella take a cautious step backwards. He took another step forward and she took one backwards. It was a game of predator and prey and it ended when Bella hit her couch and fell back into the comfortable pillows, Edward quickly climbing on top of her, trapping her to her couch.
"Y-you kn-know t-this can be illegal." Bella weakly said.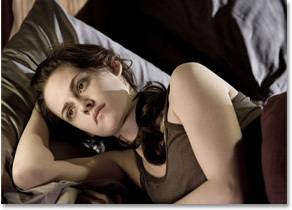 Pictured: Her scared face.
Bella, naturally, is turned on by the strange man in a Santa suit who invaded her home and pinned her to a couch, and they end up having sex. However, it turns out that their night of passion distracted Edward from his other obligations, and as a result the world has lived its worst Christmas since ever. Bella turns on the TV the next morning and sees a downcast newscaster deliver the following news:
"Today was a tragedy for most kids, and some adults around the whole word. More than half of the kids didn't receive their presents from Santa." The woman paused and looked into the camera with a sad expression.
Getty
"Those who were visited report crusty stockings curiously devoid of candy."
And then, in a shocking plot twist, it's revealed that the whole thing was actually a setup: Bella's friend thought she needed to get laid, so she got her brother Edward to dress up as Santa and seduce her. They also bought television airtime and had their friends make a fake news report that happened to air at the exact moment Bella turned on her television, because that was simpler than just introducing the two.