"Y-you kn-know t-this can be illegal." Bella weakly said.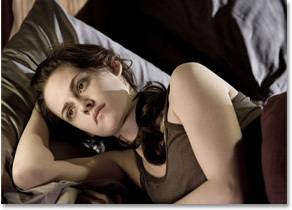 Pictured: Her scared face.
Bella, naturally, is turned on by the strange man in a Santa suit who invaded her home and pinned her to a couch, and they end up having sex. However, it turns out that their night of passion distracted Edward from his other obligations, and as a result the world has lived its worst Christmas since ever. Bella turns on the TV the next morning and sees a downcast newscaster deliver the following news:
"Today was a tragedy for most kids, and some adults around the whole word. More than half of the kids didn't receive their presents from Santa." The woman paused and looked into the camera with a sad expression.
Getty
"Those who were visited report crusty stockings curiously devoid of candy."