When traveling in the vast, anonymous, lawless expanse known as the Internet, it's a given that you're going to run into some weird shit. Maybe none of it is weirder than the world of erotic fanfiction.
This is where fans lovingly write up tales of, say, Legolas and Gimli going at it, in excruciating detail. But dig deeper and you find stories featuring such random matchups of character that it'll send your mind, and boner, reeling:
Captain Jean-Luc Picard Meets Elrond From

Lord of the Rings;

Sex Ensues
The Scenario:
In this long, molasses-paced tale, Picard is on the most important mission of his life: a mission for fun. It seems that his superiors think he needs a vacation, and so they send him off to [insert garbled fake planet name here] to relax.
Of course, something unexplained goes horribly wrong, and he ends up crash-landing on Middle-Earth. He's found and nursed back to health by Lord Elrond. Hilarity ensues.
Oh, wait, did we say hilarity? There's actually none of that. Instead it's just four more chapters of Elrond telling Picard to stay in bed, Picard playing a flute, and Glorfindel wandering by, thinking that this is the gayest damn thing he's ever seen.
Finally, Picard admits that he "experimented" once with a French dude, and Elrond, proving himself as trustworthy and honorable as any good elf, takes advantage of Picard's fragile emotional state to make out with him:
They drew away after what seemed a lifetime but was only mere minutes. The taste of Elrond's lips still lingered in Picard's mouth as they finally looked upon each other with new eyes. Relieved sighs came from both of them as both embraced, Elrond nuzzling against Picard's neck as he rested against Elrond's shoulder.
Please pause here and take a moment to savor the thought of Hugo Weaving "nuzzling" someone. Really fix that image in your mind.
But It Really Gets Creepy When...
Elrond went further by clutching Picard with his fingers, pulling at the fabric of his slacks to feel what was underneath.
The telltale bulge in the elf's leggings stood out between them, especially with the weight it had against Picard's thigh.
Elrond moved over Picard's body like a serpent and sharply nibbled at a peaked nipple.
A few quick notes to the author: slacks are not hot. You've never heard a love song with the word "slacks" in it. Even less hot than slacks are bulging leggings, particularly when they're barely concealing an elven boner. Also, the image of Agent Smith slithering up and down Patrick Stewart's body, snake-style, is one that will haunt us until the end of our days, thanks so much.
Plausibility Factor: 2
First of all, we're going to object to the notion that Middle Earth is a separate planet from Earth, which Tolkien always insisted was in the distant past of our world, or on some other plane of existence. It's difficult to believe that any LotR fan could pleasure themselves to a story with that kind of inaccuracy.
The best explanation we can contrive is that maybe Picard entered some kind of interdimensional rift, and the ship's navigation tried to adjust by sending him to a world with a fan base as geeky as his own.
Fred and George Weasley from

Harry Potter

Hook Up With Lance Bass of N*SYNC
The Scenario:
According to this romantic tale, Fred and George Weasley from the Harry Potter universe were at a party with Lance Bass of N*Sync fame. Beyond that, the narrative offers absolutely no explanation. Whose party was it? Was this in the wizarding world, or in the human world? Why were they both invited? Is Lance Bass secretly a wizard? No one knows.
Either way, we soon find out that Fred and George (who are twins, if you're new to the Harry Potterverse) have a sexy game they play where they do a switcheroo on their sex partners without letting them know. Cue breathy dirty-talk and weird instances of twin-language:
"Mayflower," Fred said casually, which was their code word for "Someone wants you and can I pretend to be you and have sex with them please?" "Lance Bass."
George's eyes widened. "Lance Bass wants me?"
Fred's heart sank. That wasn't the right response, as far as he was concerned. "Yeah?"
"Since when?"
"Now?"
"I didn't even know he was here," George said, looking around furtively, and Fred's heart sank even more. This didn't look promising.
Throughout the story, the writer makes the very bold assumption that Lance Bass is a treat no questionably gay wizard could bear to pass up. Bypassing even "ass," "cock" and "twin," the most commonly uttered phrase in the story is "It's Lance Bass!" as though this is all the motivation a healthy wizard boner needs.
The setting jumps around in the course of this 15,000-word epic of magic and homosexual hook-ups. It's made all the stranger by the random allusions to the magical Harry Potter world, and the odd phrases the author uses to make everything sound erotic, even when it's clearly, clearly not:
They flew to the nearest Portkey and lingered there, licking vinegar-stained fingers and making excuses not to go home until Fred grabbed George's damp hand and held it over the half-chewed acorn.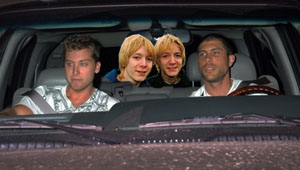 "We've got room for a fourth, right? Yeah. I think we do."
But It Really Gets Creepy When...
Capitalizing on his fame as a late-nineties pop star/astronaut hopeful, Bass manages to convince both Weasleys to accompany him home, where he not only successfully seduces them, but manages to turn them gay for each other, as well.

Lance Basstronaut
That's right; brothers Fred and George do it for Mr. Bass's benefit, and then realize they're more attracted to each other than anyone else. Keep in mind that they're identical twins. Here, narcissism reaches new, terrifying heights.
Plausibility Factor: 5
There are a number of problems here. The Weasley twins belong to a wizarding world bound to secrecy, with its own, self-contained culture (including its own music). This begs the question of how exactly they know who "It's Lance Bass!" is.
But even if we forgive all of that, we still refuse to believe that "Bye Bye Bye" has gotten anyone laid since 2001.