However, long before he invented the hoagie, Ben Franklin experimented with something that soon became as much a part of the democratic process as the super PAC or the middle finger. We speak of his 1747 editorial "Non Votis," or "The Waggoner and Hercules," which appeared in his pamphlet Plain Truth. The publication was a precursor to the zine -- which, incidentally, Ben Franklin is credited with inventing.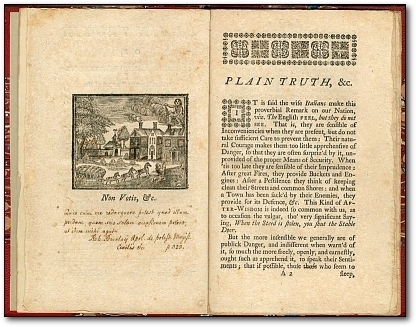 Via Librarycompany.org
Best in Show: Philly Zine Fest 1747.
According to his autobiography, "The Pamphlet had a sudden & surprising Effect," not unlike an 18th century equivalent to Cracked.com. Franklin revisited this phenomenon on May 9, 1754 in his Pennsylvania Gazette with his editorial "Join, or Die." Just like "Non Votis," Franklin made his message as idiot-proof as possible: It was just a drawing.
Via Wikipedia
Ben's poor understanding of reptile anatomy would cause thousands of tragic snake mutilations.