You're ordering at a coffee shop (or if you're fancy, a cafe), and you notice that the barista is surprisingly attractive. Ordinarily you would chalk that up to a nice moment in your otherwise mediocre day, but hang on a tick. As you look around, all the employees are really good-looking. What is going on? What time is it? Are you drunk already and you just forgot? There's no good reason why all this beauty should be wasted on angry caffeine junkies.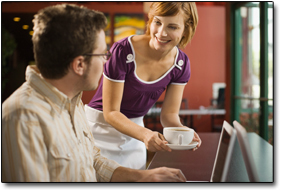 Getty
You've stumbled into a sci-fi universe, that's all. Prepare to be culled, ugly!
Well, this phenomenon (assuming you aren't actually drunk) might be an incredibly reliable, vaguely sexist indication of how the economy is faring.
It's called the Hot Waitress Economic Index, and it goes like this: In our often unfair society, really attractive women are unlikely to work as waitresses, as they have an easier time finding other, better-paying jobs (we're not saying it's right, we're saying it's a statistical truth). When the economy goes belly-up, attractiveness isn't as valuable as actual skill, and attractive people get laid off just like everyone else -- so they temporarily drift back to a job that doesn't require schooling but offers great tips if you have a nice smile. When the economy picks up again, they return to higher-paying jobs.
Getty