The problem is that the West pays such an unreasonable amount of attention to Ahmadinejad that according to political experts, it's one of the only things keeping him relevant in Iran. Despite a failed economic policy, and the fact that he's pissed of the Ayatollah so much that experts don't expect him to finish his second term, the Iranian people feel like they have to pay attention to him because America is paying attention to him. And America is paying attention to him because his job title sounds impressive to us.
Getty
"A president? Those are the things we protest against!"
OK, but even if Ahmadinejad isn't in charge, the real leaders are religious hard-liners who hate America. So Iran is still a threat, right? Actually, their annual military budget is around nine billion dollars, which puts them behind the powerhouses like Greece and Australia. In terms of per capita spending, Iran is dead last in the gulf region. Nuclear weapons aren't a concern, either, as U.S. intelligence agencies believe Iran has halted its program.
Making your enemies seem like unbalanced lunatics is just an old propaganda trick. For instance, remember that comment about wanting to wipe Israel off the map? According to the people who translated the statement in the first place, it was translated worse than a Final Fantasy game, due to "time pressure to produce a translation quickly." It would be more accurate to say Ahmadinejad wanted to see a regime change, which is a pretty common statement in global politics.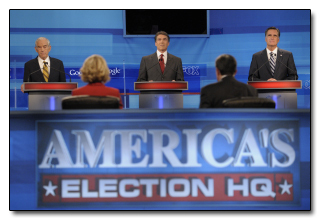 Getty
All these men support regime change. Only Perry wants D.C. wiped off the map.