Actually:
That's why Ahmadinejad isn't in charge -- Supreme Leader Ayatollah Ali Khamenei is. Despite a title that sounds like an overcompensating member of the Wu-Tang Clan, Khamenei has been running the show for years. See, unlike our president, Ahmadinejad doesn't control Iran's nuclear strategy, armed forces or even foreign policy.
Getty
Motherfuckers act like they forgot about 'Nei.
Ahmadinejad is more like the Joe Biden of Iran -- he says stupid things that embarrass the country, but the guy in power thinks he's a good enough shit, so he keeps him around. Though even that gives President Spell-Check a little too much credit, because Ahmadinejad isn't even the second most powerful guy in the country.
Try 14th. In addition to Lord Sexgantic Ayatollah Khamenei, he's outranked by the 12 members of the Guardian Council, which sounds like something out of the extended Star Wars universe, but actually functions more like Ahmadinejad's boss. They can shoot down his ideas via veto and get to decide who runs for president in the first place.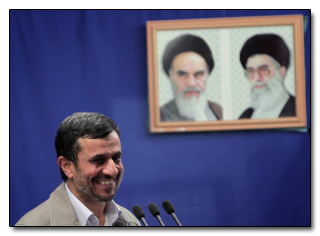 Getty
Ahmadinejad can't even talk without their pictures standing guard.
As the Iranian people know, Ahmadinejad doesn't even have the power to get women into soccer games (one of his campaign promises in 2007), and he has become increasingly unpopular among the masses with every day in office.
Getty
This makes me Ahmadinesad.