The presiding and awesomely named Judge Paine was apparently a big fan, as his remand of this appeal was full of more Mike Myers catch phrases than a middle school talent show. His short opinion was separated into four paragraphs with the following titles:
"Hurling Chunks"
"Like a Winged Monkey Flying Out of the Ashes"
"NOT!"
"A Schwing and a Miss"
Surely you're thinking to yourself "No way!"

Way.
His enthusiastic disregard for professional legal conduct aside, Judge Paine's implementation of the dialogue is just plain baffling ("like a winged monkey flying out of the ashes" does not appear once in Wayne's World and seems more like something a hobo would say before playing a harmonica with his asshole). His ultimate ruling against the appeal of Prime Time Charters Inc. (owners of the exploding boat) concludes with the following:
"Prime Time's removal ... is a defect deemed "way" improvident ... Prime Time's most bogus attempt at removal is "not worthy" and the Defendants must "party on" in state court."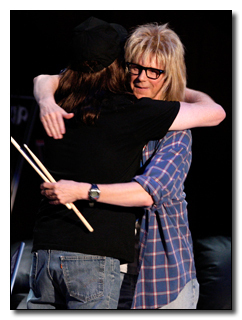 Getty
*Sigh* Go ahead, you deserve it.