The first thing to keep in mind is that the character isn't just portrayed as being really smart -- he is obsessed with certain subjects and totally excludes all others. In one of the Holmes stories, A Study in Scarlet, he doesn't know that the Earth revolves around the sun (because, he says, the information doesn't have any effect on his everyday life). These uneven obsessions with random topics -- in Holmes' case, things like tobacco ashes and regional soil consistency -- are not signs of an enthusiast; they are symptoms of a disorder. Or, as the Yale Child Study Center puts it, Asperger's sufferers show "...a narrow range of capacities for memorizing lists or trivial information, calendar calculation, visual-spatial skills such as drawing, or musical skills involving a perfect pitch or playing a piece of music after hearing it only once."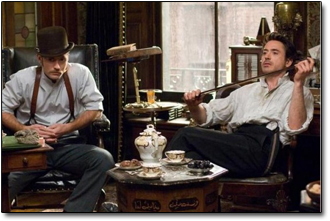 "Care for a 70th rendition of 'Baa Baa Black Sheep,' my dear Watson?"
And most telling is that Holmes' talents are coupled with an inability to interact socially with anyone but Watson. He embarks on long-winded monologues about very specific topics, oblivious to the listener's lack of interest. If you know someone with Asperger's, you're well familiar with this habit.
It's true that the disorder wouldn't be recognized until 70 years after Doyle invented the character. But obviously the disorder existed long before there was a name for it, and Doyle didn't have to know what the disorder was called in order to have known somebody with those quirks, and written them into his fictional detective. Perhaps 70 years from now, experts will have a name for the ability to slow down time and punch people in slow motion.

"Flashperger's"?