Do you write this man a huge check? Or do you call security?
It Seems Obvious Now ...
When it comes to blockbuster movie franchises, Star Wars feels like cheating. A simplistic story of good and evil told over the backdrop of the greatest special effects ever filmed and featuring a smirking Harrison Ford in his prime? Add in the fact that everything you saw on screen could be turned into a kick-ass toy or action figure and it seems like the Hollywood version of an infinite money cheat code. That's how it looks now.
Getty
George Lucas: Proof that you don't need the support of a giant studio to sell out.
But at the Time ...
Actually, even George Lucas didn't really want to make Star Wars. He wanted to give us a 1970s reboot of the 1930s sci-fi adventure series Flash Gordon. But the rights had already been purchased by Italian producer Dino De Laurentiis, so Lucas had to build his own version effectively from scratch. His own expensive, totally incoherent version.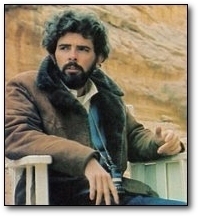 "Underneath every stormtrooper's helmet is Dino De Laurentiis' head."