So there he was, watching his Earthling porn when he suddenly sees Big Barda getting her freak on. Barda, by the way, is married to another superhero, Mr. Miracle. So Darkseid does the most evil, supervillian thing he can think to do: Show Mr. Miracle the tape of his wife getting what is surely the best sex of her life from Superman.
Of course you don't tell him what's on the tape, you just make him watch it.
You truly are the god of evil, Darkseid.
Mr. Miracle, Barda's husband, quickly finds Sleez's movie studio and stops his wife and Superman from showing up on Porntube.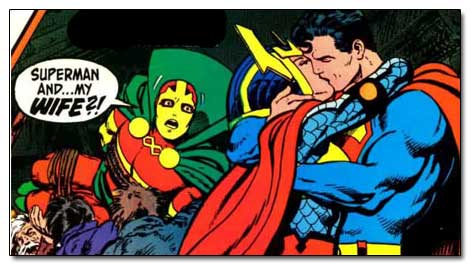 Sleez tries to escape through the sewers but Superman follows him. Faced with a life behind bars and without porn, he decides to end it all. He lights a match and the concentrated gases in the sewer make this story end just the way it ran, as a massive explosion of shit.