See that guy getting romantic with that dinosaur? He is Aviax, proud member of the superhero team The Wanderers. Never heard of them before? No worries! Not even the Editor read it, which is probably how they got away with the dinosexy.
Now, we need point out that there is a fine line dividing the province of superhero costumes and that of costumes for backup dancers of homoerotic musical extravaganzas. Aviax's costume crossed the line riding a motorcycle, jumping over 20 school buses on fire and never looked back:
His powers are even more depressing. Aviax has the amazing ability to transform into any bird, one of the many creatures in nature less capable of fighting crime than a regular human. And because life was not miserable already, they gave him a weakness as if his entire self wasn't weakness enough: Aviax has hollow bones, like real birds. Which is OK for them because unlike Aviax, birds are not going to get into fist fights with super villains.
But the reason he's on this list is that he fucks dinosaurs.
There was this planet where the dinosaurs that were about to evolve into birds were dying because of some radiation. The space police called in The Wanderers since either everybody else was busy, or they dialed the wrong number. Aviax, who was immune to the radiation, came up with the plan: To add his radiation immune gene into these dinosaurs' gene pool. Is he going to use his DNA to make some in vitro dinosaurs and add them to the population? Nope. He's gonna do some dino-fuckin'.

The facial expressions on the three guys in front seem appropriate, but the two girls in the back and the disembodied head? We need to talk.
In the form of a sort-of dinosaur bird, he goes to the planet and quickly finds a lady dinosaur he deems worthy of receiving his gift of radioactive-proof DNA. But Lady Dinosaur has a boyfriend already. Hey, no problem a little aggravated assault can't fix.
Then of course Lady Dinosaur runs like hell, but Aviax catches her, pins her down and has his way with her.
And after all the horrible, soul scarring acts are said and done, Aviax runs off before she wakes up. And we bet he didn't call her in the morning.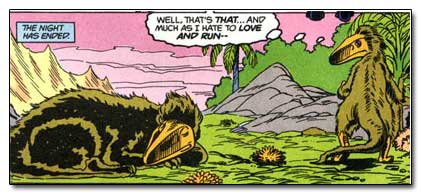 So what did Aviax accomplish? God alone knows, because The Wanderers didn't stick around to see if the dinosaur actually got pregnant, or if the baby was born alright or lived long enough to reproduce. They didn't even check if he inherited Aviax's immunity to radiation. So, his only accomplishment? He raped a dinosaur. Hey, what did you accomplish today?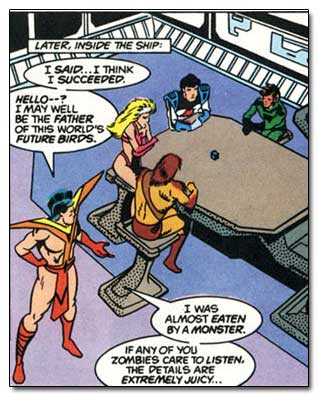 "OK, guys, here is the plan. We bury him here, then we change our names and never speak about this day again."