On Saturdays, we ask the people behind some of our favorite websites to fill in for us. You get to learn about an awesome site you may not have heard of, and we get to watch cartoons in our boxers. Today we're bringing you an abridged version of the screenplay for the Coen Brothers latest Burn After Reading, as provided by The-Editing-Room.com.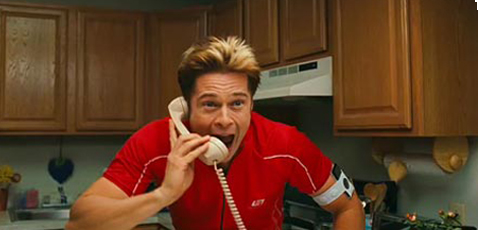 FADE IN:
INT. DINNER PARTY
GEORGE CLOONEY, JOHN MALKOVICH, and TILDA SWINTON all converse during a party.
JOHN MALKOVICH
I just lost my job at the CIA, but just to make sure that nobody in the audience has anyone to sympathize with in the movie, I'm going to act like an arrogant prick to everyone.
GEORGE CLOONEY
Since I didn't win an Oscar for my performance in 'Michael Clayton' I'm going to give up on subtle performances entirely and overact my way through this whole thing.
TILDA SWINTON
And I'm going to be a stuck-up, raging bitch, thereby completing the trifecta of loathsome lead characters.
TILDA, who was fucking JOHN MALKOVICH now starts fucking GEORGE CLOONEY who is also fucking ELIZABETH MARVEL who disappears from the fucking MOVIE, which almost immediately begins fucking over the AUDIENCE. Fuck.
Meanwhile ...
INT. GYM
FRANCES MCDORMAND quirks her way around the GYM where she works with BRAD PITT.
BRAD PITT
Whoa, like, hey, I found this CD belonging to John Malkovich and it's all sorts of data and shit! Too bad there were no MP3s for me to put on my Apple brand iPod. iPod: rediscover your music.
FRANCES MCDORMAND
Whoa, Brad Pitt? I didn't know you still did movies that didn't require you to wear expensive suits or rob casinos. What's with the, you know, acting?
BRAD PITT
I was watching all these awesome movies from the late nineties and realized I was in half of them. Figured I should ignore the fact that I'm too old for this kind of role and try again.
FRANCES MCDORMAND
Oh, well lets blackmail the guy who lost this CD so I can pay for cosmetic surgery to make me look less like John Tesh.
The two of them are STUPID and therefore HILARIOUS. They get into WACKY HIJINKS that almost get close to making a POINT but luckily NEVER DO.
JOHN MALKOVICH
You two are in over your head.
FRANCES MCDORMAND
Because we're casually dabbling in blackmail, espionage, and treason?
JOHN MALKOVICH
No, because you're starring in a movie that is obviously a forgettable, throwaway palate cleanser made to follow up "No Country for Old Men" and absorb the post-Oscar-win-backlash. I've already forgotten this movie and it's only half over.
FRANCES and BRAD continue to try and make money from the discovery of a CD containing JOHN MALKOVICH'S screenplay for a jewel thief movie. FRANCES also starts dating GEORGE CLOONEY.
GEORGE CLOONEY
Hey, come back to my house and check out this thing I made. It's a chair that shoves a dildo up your vagina as you rock back and forth on it.
FRANCES MCDORMAND
What the fuck does this have to do with anything?
GEORGE CLOONEY
I dunno, apparently it got rejected from every Coen movie and finally landed in this one. Isn't it super wacky? It's a totally inappropriate sexual device smack-dab in the middle of a movie that gains nothing whatsoever from it's inclusion!
FRANCES MCDORMAND
That's so zany! Plus it pads the movie out a little longer!
They FUCK. GEORGE also fucks TILDA some more.