If Hancock Was 10 Times Shorter and 100 Times More Honest
On Saturdays, we ask the people behind some of our favorite websites to fill in for us. You get to learn about an awesome site you may not have heard of, and we get to watch cartoons in our boxers. Today we're bringing you an abridged version of the screenplay for Hancock, as provided by The-Editing-Room.com.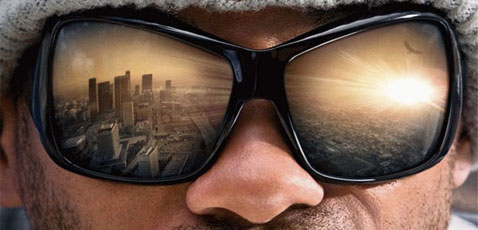 FADE IN:
EXT. NEW YORK CITY
A VEHICLE full of STOCK BAD GUYS drives down the highway, shooting COPS and WREAKING HAVOC while trying to outrun a FIVE-STAR WANTED LEVEL. WILL SMITH drunkenly flies to them and hops into their car.
WILL SMITH
Hey, fellas. I'm here to display sarcastic attitude in order to show that I totally don't care about my superpowers or whatever.
BAD GUY
Then why did you bother showing up to stop us at all?
WILL SMITH
Because if I didn't, Dave Chapelle was going to get the lead in this movie. Nobody steals the July 4th weekend box office from Will Smith!
WILL picks the car up and throws it down on top of a building, destroying the car, the building, and the special effects team's weekend plans.
WILL SMITH
Now that's what I'm talkin' 'bout!
Meanwhile ...
INT. OFFICE BUILDING
JASON BATEMAN talks to a group of businessmen.
JASON BATEMAN
... and when you start to give your product away for free, you can put this fruity-looking heart logo on your products. What do you think?
BUSINESSMAN
I'm sorry, did someone just splice a different movie into this thing? Why is your PR campaign backstory given so much detail? Who gives a shit?
JASON BATEMAN drives home, but gets stuck on TRAIN TRACKS as a TRAIN approaches. WILL SMITH flies in and saves JASON by DESTROYING THE TRAIN.
BYSTANDERS
Boo! You're the worst mildly-satirical superhero ever! You're worse than The Tick!
WILL SMITH
Dammit, is this movie going to do anything to explain why I keep trying to help the shit-eating dickwads that inhabit this city?
JASON BATEMAN
I think you could use my help, Will. Your intentions were to do something good, but instead created a massive train wreck.
WILL SMITH
Are you talking about the train, or this movie?
JASON BATEMAN
The train. I'm a Public Relations something-or- other. I can help you with your image.
WILL SMITH
Er, how exactly do you intend to make any money doing that?
JASON BATEMAN
My plan is just to stay in the movie. When the camera zooms in uncomfortably close during dialog scenes, I'll sell advertisement space on my forehead.
WILL and JASON go to JASON'S HOUSE for dinner. JASON'S WIFE, CHARLIZE THERON, gives WILL incessant knowing glances, indicating to everyone in the AUDIENCE with half a brain that she has some kind of prior relationship with him.
WILL SMITH
Thanks for the spaghetti and meatballs. So how did you manage to land a wife so far out of your league, Jason?
JASON BATEMAN
It's a funny story, actually. See, I thought she was just quirky and British, but it turned out that she was mentally retarded. There was all of this confusion with her uncle, who I thought was named "Mr. F," and ...
CHARLIZE THERON
Will doesn't want to hear that story, dear.
(to Will Smith)
Tell us how you found out you had superpowers.
WILL SMITH
Well, I just woke up in the hospital with plot-convenient amnesia about my own origin story. Like Wolverine, but poorly written. All I had in my pocket were two tickets to see Frankenstein and a few dollar bills that weren't in circulation at the time. I was asked to sign "John Hancock" when I left the hospital, so I thought that was my name because having amnesia turns me into a moron. When I got out, I whistled for a cab, and when it came near, the license plate said "fresh" and there were dice in the mirror. If anything I could say that this cab was rare, but I thought "naw forget it, yo home to Bel Air!"
The PUBLIC demand that WILL SMITH go to JAIL for ACTING LIKE AN ASSHOLE, which is apparently a crime. He DOES, largely because the story has NOWHERE TO GO.
RANDOM CRIMINAL
Welcome to jail. I'm going to assume that your powers are somehow deactivated now and therefore I am capable of intimidating you.
WILL SMITH
If you don't get out of my way, I'm going to turn this movie into a cartoon.
WILL literally shoves his head up SOMEONE'S ASS and the SCREENWRITERS race to remove their names from the CREDITS.
JASON BATEMAN
Hey, Will. Looks like my plan to have you stay in jail until the plot progressed itself worked. There's a bank robbery in progress. I have a costume for you.
WILL SMITH
Er, did you make a costume with a permanently popped collar? Does your image-improvement plan just consist of converting me from an asshole into a douchebag?
WILL flies to a BANK ROBBERY and tries to stop EDDIE MARSAN.
EDDIE MARSAN
You'll never stop me, you typecast asshole!
WILL SMITH
Nobody calls me an asshole!
EDDIE MARSAN
Ah, a graduate of the Marty McFly School of Characterization, I see.
WILL stops EDDIE and sends him off to JAIL, saving the day!
WILL SMITH
Well that takes care of that. All in all, a pretty decent climax to a flawed, uneven, but largely tolerable comic book movie.
(checks his watch)
What the hell, how can we only be 45 minutes into this thing? Everything from the trailer was shown and it had 3 distinct acts!
CHARLIZE THERON
I seriously suggest everyone leave the theater right now and pretend the first half was the whole movie. Things are about to get awful.
WILL SMITH
What, why? This was a relatively fun superhero flick about a sassy but charming loser that must reluctantly learn to become heroic while making sarcastic quips. How could it possibly go wrong?
CHARLIZE THERON
I'm a superhero too. And I've been living out a secret identity as a housewife. And we were "made in pairs." And there used to be hundreds of us. And when we're near each other, we lose our power. And we're a thousand years old. And we used to be married.
WILL SMITH
Oh. Yeah. That'll do it.
WILL and CHARLIZE have a destructive FIGHT through the city for no particular reason. This causes no apparent loss of powers, but then later it DOES.
Meanwhile ...
INT. PRISON
EDDIE MARSAN conspires with OTHER CRIMINALS.
EDDIE MARSAN
I'm totally going to get revenge on Will Smith. Help me break out of here and then I'll go shoot him.
RANDOM CRIMINAL
Shoot him? But you already know he's invulnerable against bullets.
EDDIE MARSAN
Yeah well, maybe by now there's been an extremely awkward and idiotic plot twist that renders him weaker than earlier in the movie.
RANDOM CRIMINAL
I dunno, man. That would be pretty fucking embarrassingly stupid. Like, I'd have to assume everyone involved in making the movie would be unable to show their faces in public again for something that retarded.
EDDIE escapes and goes after WILL. WILL gets HURT, which apparently also hurts CHARLIZE THERON.
JASON BATEMAN
Will, don't forget that this movie was directed by the same guy who made "Very Bad Things." What's the stupidest possible explanation for how you can get your powers back?
WILL SMITH
Um, walk a few feet away? Or maybe even super-leap away using powers I don't have right now?
JASON BATEMAN
Perfect!
WILL leaps away from CHARLIZE and everyone HEALS. EDDIE is DEFEATED and WILL carves a heart into the MOON.
WILL SMITH
It's staggering that a movie that has been in pre-production for a decade could end up feeling so rushed. Why did this piece of garbage get crammed into the summer so quickly?
JASON BATEMAN
Same reason as The Incredible Hulk, Wanted, and Hellboy 2. We needed our comic book movie to make all of it's money before The Dark Knight came out and spanked everyone. Thanks for the cash, suckers!
WILL SMITH
Now that's what I'm talkin' 'bout!
END
For more scripts that are funnier and less-time consuming than watching a movie, head to The-Editing-Room.com.
Scroll down for the next article