Another approach is the "finger twaddle." I call it that because "twaddle" is a very funny word. This is a multi-stage process. First, during foreplay, spend some time fondling her tush. If she responds positively, insert your pointer finger, a maneuver I call "the twaddle." Twaddle around in there a little. She likey? Great. Now, as you twaddle, whisper the following in her ear. "Roll over, baby." The rest should take care of itself.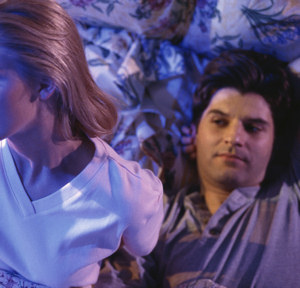 Maybe you're one of those guys who likes to lay down the rules of the road before the evening progresses to coitus. As I mentioned before, simply posing the question in a straightforward manner rarely achieves the desired result. Instead, try asking in an indirect way.
Perhaps you've just enjoyed a romantic dinner together (I suggest Red Lobster). The evening is going well, and you suspect the two of you might end up in bed together later in the evening. Great. Here's what you do: Order dessert. (If you take my suggestion of Red Lobster, I further suggest "The Chocolate Wave.") When your Chocolate Wave arrives, spoon some of that gooey concoction into her mouth, and say, "I wish this gooey concoction was my wang, and I wish your mouth was your butt." If she says, "I wish that, too," you'll know where you stand. If she says, "That's disgusting," you can easily say, "I was just kidding." Or, less convincingly, you could try, "I think you misunderstood me." But that's not the kind of thing that's easily misunderstood.
If this is still too direct, take her on a long walk through a nature conservancy or arboretum. While strolling among the flora and fauna, take her hand in yours and say something like, "I'm having a great time. I'd like to know everything about you." Women love to hear that. Next, ask her a series of utterly meaningless questions: "What are your hopes and dreams?" "Have you ever been in love?" "What's the worst tragedy that's ever befallen you?" Etc., etc. As you are "listening," slowly wrap your arm around her waist, and slide your hand down to the small of her back. Continue talking until you decide the moment is right for an "over-the-pant finger twaddle." This is accomplished by lightly caressing her anus in a "sympathetic manner." How do you caress somebody's anus sympathetically? Brother, if I have to tell you that, you need more help than I can offer.