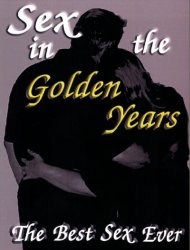 "Now that more people are living to be 70, 80, 90 and 100, research shows quite clearly that sex is as important as ever."
Reviews Say:
"Our sex life has truly changed and is now the best we've ever had - even though we are both in our early seventies!"
We Say:
The above quote scares the shit out of us. If the best sex you've ever had is in your 70s, you may have ruined your life somehow.
Now, understand, being the lovers of freedom and individual rights that we are, we're not suggesting senior citizens shouldn't have sex. We're just suggesting it never be talked about or acknowledged openly in any way whatsoever because it horrifies us.

Now picture them porking.
Horrifies us like watching Satan kill Santa Claus, then burning down Disneyland while drinking the last beer ever. But apparently that feeling isn't held by a small, but determined population of internet porn shoppers and the authors of this book who figured people who had most likely been having sex for seven decades now need a guide on how to do it.