#20.

Photo courtesy of zombietime.com.
If this guy was any more in your face, he'd be living in your nose, which would suck since your work life and ability to form relationships would be severely impeded by the sound of Rage Against the Machine constantly blaring out of your nostrils.
#19.
Calling Dick Cheney a war criminal is old hat by now--there's actually a pretty good chance his wife calls him that in bed. What makes this one so odd is the second-grader-Halloween-art-project-skull-mask the protester, who appears to be Art Garfunkel, is wearing.
#18.
Lunatic protesters aren't solely a product of America of course. This one is a particularly good example of someone missing the point of "freedom of expression" entirely.
#17.
Another contender for our "missing the point entirely" prize, we instead decided to nominate this entry for Cracked's first Annual "Doesn't Understand How Buses Work" award.
#16.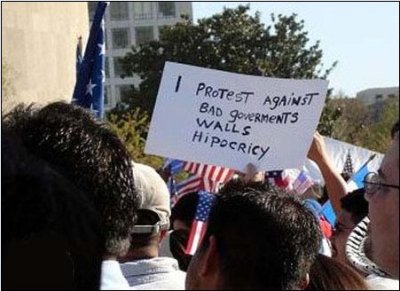 Claustrophobics have a real love/hate thing with protests, what with their tendency to be held outdoors and densely packed crowds.
This guy's evidently using several American flags to calm him within that mass of people.
#15.
Until you read the small print and then think about it for a minute, the sign just looks like she wants us to vote vampires out of office, which, honestly, we never knew was an option.
#14.
Protesters, brown people, and a war on Christmas. You'd swear this is a digital composite created by Fox News.
#13.
In America, we mainly consider Japan to be a crazy little inventor who makes the cool gadgets that help us do our jobs--the Fuji to our Super Dave Osbourne. But in China, they hate, hate, hate the Japanese, for a variety of somewhat compelling reasons. Go Google "the rape of Nanking" if you want to find out more. Here at Cracked, one of our specialties is "not making jokes about the rape of Nanking," so we're not gonna go into it.