For the love of god, why are they doing this?
Well, Cleveland is boring. Also, the enzyme responsible for this behavior, PEPCK-C (apparently, the only enzyme sponsored by PepsiCo) could potentially be used to fight a bevy of debilitating afflictions such as McArdle's Disease, Cystic Fibrosis and Chronic Weak-Kneed Pansy Syndrome. Lead project researcher Prof. Hanson grudgingly admits that it is "very possible" their results could also be used to produce muscle enhancing drugs that could easily be abused for their potential to greatly enhance any and all athletic abilities. After the interview, Prof. Hanson returned to his work, watching mice run on itty-bitty treadmills, swim about in tiny mouse-pools, and wear miniscule Christmas sweaters, though he readily admits that last one is "just because."
We strongly suspect that the motivations for the experiments will be made much clearer when they try to splice a Mexican accent into the super mouse and outfit him with a tiny sombrero, finally bringing to fruition a seemingly impossible dream: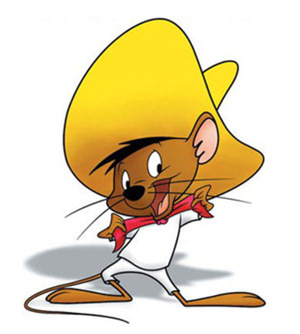 What's going to happen to us?
Though super-fast, super-enduring mice might seem to be a plague of cuddles and wuddles rather than death and destruction, we would remind you of their disease carrying tendencies. Field mice are the Tommy Lee of nature, spreading disease like tiny little Motley Crue reunion tours. Mice literally decimated Europe in the Middle Ages by carrying the bubonic plague. Now, imagine if those same mice were physically incapable of tiring, could cover five times the ground, and breed all the way up until they die- at three times the age of a normal mouse.
Even more terrifying a prospect, however, is the "very possible" potential for this modified enzyme to be used as a drug in humans. The drug would enhance every single aspect of physical performance, while increasing both life span and libido. This sounds initially like a wonder; it's all the promises of your spam mail subject lines coming to life and all you have to do is freebase a super-mouse! That is, until you listen to Prof. Hanson, himself, who admits that "On the downside, they eat twice as much as control mice, but they are half the weight and are very aggressive. Why this is the case, we are not really sure."