After having spent the past 10 years as a stand-up comedian, drinking in bars, and having just hosted Barmageddon, a show for truTV that is set in them, I can honestly say that I know bars better than any functional human being ever should.

"Functional."
Over the years, I've probably given them half my income and 100 percent of my dignity, and along the way I've learned a lot about these noble institutions -- namely that there are five factors that must be considered when determining how great a bar actually is. Well, six if you count whether or not a bartender is willing to give you a hand job in the parking lot before she goes home to her five kids, but so far that has turned out to be an isolated incident and part of why I'll always love Billings, Montana.
The other five factors are: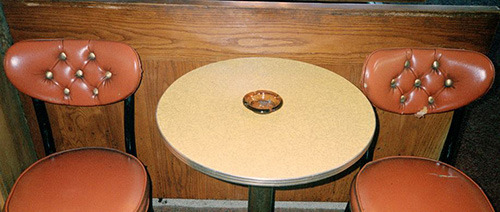 Ingram Publishing/Ingram Publishing/Getty Images
A bar has gotta look like it's been enjoyed for me to enjoy it. If I can tell that the furniture is brand-new, I can't cut loose. I feel like if I spill, the owner's kids won't go to college. I want a bar that's got some stories, that's made some mistakes. During Barmageddon, we shot in a place where a baby had actually been conceived on top of the piano. That must have been one hell of a song! Then again, there is such a thing as a bar being not classy enough. We shot in a biker bar where the staff was forced to cut paper towels into squares in order to save money on cocktail napkins.
TimHesterPhotography/iStock/Getty Images
The money is not worth this.
When your economic plan involves arts and crafts, you know it's time for a change. Out of all the money-saving tactics I saw while shooting the show, this paper-towel-napkin thing sticks with me as the ultimate sign of a bar owner having hit rock bottom, like it's the business decision one makes right before switching from serving beer to cooking meth.
Bartenders Who Aren't Dicks About "Mixology"
Jupiterimages/Stockbyte/Getty Images
When it comes to drinks, I'm open-minded. Jalapeno Martini? I'll try it. Coconut-infused mimosa? Bring it on. An alcoholic chipmunk's breast milk with a pickle back? As long as you're buying. But if you're gonna be cocky about mixology, your drink better be fucking amazing. There's nothing worse than a bartender giving you a long explanation about how his fresh ingredients are locally sourced and he makes everything from scratch, right before he serves you a drink that makes you gag. One place we shot in served me a drink that had an actual lavender branch in it.
Brand X Pictures/Stockbyte/Getty
So, a piece of scented wood. Floating in my drink.
I'm sorry, is this a bar or a renaissance fair? And if it is a renaissance fair, hand me a sword, because that's about the only way I can drink lavender and still feel like a man. In other words, indulging in mixology is like getting to know the personality of a one-night stand: if it's great, it makes things a little better, but for the most part it's a major letdown and you're better off keeping things simple. And, you usually wake up feeling better as well.