We live in a magical sexual era. Almost every perversion you could ask for is available for consumption, and select dalliances that don't yet exist can become reality with nothing but a dream and an enticing sales pitch. The website Offbeatr is Kickstarter After Dark, and gazing too long into it may leave you questioning your most fundamental knowledge of sexuality.
I'm not here to mock other people's tastes, because I can feel the judging eyes of my Daria Morgendorffer body pillow from across the room. But I can't help but notice a few trends which raise more questions than passion. Such as ...
Porn Parodies No One Asked For
Offbeatr
Anyone who played one of the 18 Five Nights At Freddy's, a series of jump scares loosely disguised as horror games about murderous animal animatronics, no doubt had the same thought as me. How can we make this ...
Scott Cawthon
... into something worth masturbating to? Well, in the proposed comic "Fuck Me At Freddy's," (all links are incredibly not safe for work, unless you work somewhere cool), the animatronics are anthropomorphic hermaphrodites used by the most niche strip club ever conceived. The club's security guard, a young woman wearing a pair of semi-deflated beach balls, immediately gets kidnapped by the big-dicked furry robots for a wide variety of non-consensual acts. Just imagine the sex educators of today wondering if their doe-eyed students will eventually get off to this:
Offbeatr
"I think I heard something. Give me five minutes to turn around and look."
The pitch stresses that this isn't just a random porno, but rather a deeply personal passion project full of nuanced character work and an elaborate story. Readers are challenged to explore intriguing questions like "Who created these sex bots?" and "How many pills does that poor girl need to take for her back?"
Offbeatr
"Why are they made entirely of glitter?"
Contribute a mere 20 dollars, and you'll receive special backstory and insight into how the characters and plot were developed. That's a reasonable price for such information on most projects, but a bit steep for a PDF which presumably just reads "I was playing Five Nights At Freddy's one-handed when it came to me -- pun intended ;)." The creator is so convinced that you can't masturbate without sufficient lore that more info will be provided as more money is raised. Truly, this will be the most intellectually stimulating hermaphrodite furry robot gang rape comic ever created.
If you like the idea of jerking it to video game parodies, but prefer the "wizards and shit" genre and have no taste, then check out World Of Porncraft: Whorelords Of Draenor. If a mere $10,000 are raised, you'll be able to play a game in which a night elf gets repeatedly violated by orcs, and also you have to save the world or whatever. Featuring the regular graphics of your Super Nintendo with the porn scene graphics of those late-night infomercials for sketchy video game design schools, World Of Porncraft: Someone Wrote This Name And Didn't Cringe So Hard That Their Face Ruptured is a deeply uncomfortable adventure through a baffling land that's rich in the kind of details no one's ever asked for.
Offbeatr
And the least erotic tutorial possible.
Is it a rule that complex plots are required to make you feel less weird about jerking it to a video game? Because back in my day, you just picked a Soul Cailbur girl and, uh ... I mean, wow, for $300 you can get a special "big tits" skin! But wait a second ...
Offbeatr
So what you're really saying is that I have to spend 300 bucks just to save time on a goddamn minigame? I'm onto your tricks, Whorelords Of Draenor!
A Lot Of Sexy Boxing Stuff For Some Reason
Offbeatr
Despite falling further out of public interest than medicinal cocaine, there are lots of Offbeatr projects based on the sweet, sweaty science of boxing. In Busty Box, you play as Skinny Sam, the only flat-chested and clothed woman in a league otherwise dominated by naked giantesses whose breasts could stop bullets and then be used to beat their attackers to death. But Sam has a secret weapon in her pervert brother, who helps her out by molesting her opponents, despite looking like he should be doing someone's taxes and then kidnapping their child. Together, you knock your opponents out and/or bring them to orgasm. It's not really clear what the rules are, but any game which features repeated genital punching and a special move called "Va-Va-Violate" isn't so much understood as it is screamed at.
Offbeatr
"I peed in your underwear. Okay, good luck out there!"
If you like the concept of going down on someone and then beating them as hard as you can, but are turned off by the mannequin faces of Sam and her soon-to-be-wanted-by-the-FBI brother, you could pitch in to the $7,500 the creator of Foxy Box is looking for. What's Foxy Box, you ask? Why, it's the spiritual sequel to Topsy Boxy! While the rest of us were masturbating to the Fallout 4 trailer like normal people, one unsettling man was making more sex boxing games than a single civilization could ever need.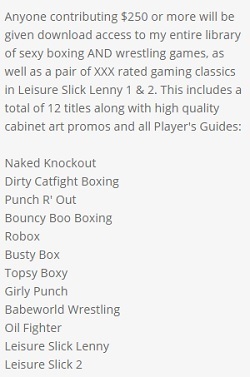 Offbeatr
Far, far more.
I'm no boxing expert, but I feel like there are a limited number of ways to introduce sex and then come up with a name that says English is your fourth language. Foxy Box's particular approach is hard to describe without sounding like a poster on a shitty subreddit, but from what I can glean, our combatants -- all of whom are fighting out of Uncanny Valley -- mash their giant breasts together, and then the winner gets to knee the loser in the crotch. I'd say that can't be worse than Mayweather/Pacquiao, but only because that's the only boxing joke I know how to make. What I do know is that any game containing the phrase "breast-punching marathons" is going to be so terrible that IGN would only give it a 7/10.
Finally, because boxers with breasts which would render even basic athletics challenging is a fetish transcending all mediums, Bo Taffy (real name Broderick Taffy) is looking for $300 to manufacturer this figurine ...
Offbeatr
... which is based on a character from his comic books about nude boxers, which he creepily talks about as if they're real people.
Offbeatr
Chief, if people are giving you money so they can have a figurine of a topless boxer on their desk, I guarantee that they don't know if they have a latex allergy.