History is full of disasters that somehow missed the spotlight. Maybe they weren't big enough, or maybe they were almost identical to a completely different catastrophe and ended up consigned to the weird part of history where we file away things like Hydrox and Deep Impact.
Well, no longer. Here are six of the most forgotten disaster sequels and prequels in history.
The Kyshtym Disaster Was The 1950s Version Of Chernobyl
Diana Markosian/Voice of America
Chernobyl was ... well ... c'mon, don't play this game with us. You know what Chernobyl was. Pop culture (and on a number of occasions, us) have been recapping the events of Chernobyl for the last 30 years.
OK fine, it was a catastrophic meltdown at a nuclear power plant in Ukraine. Are you happy?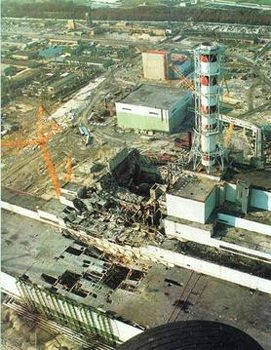 Russian National Archives
Look, here's a picture. Are you proud of yourself?
But even if you did know that, you probably didn't know that Chernobyl was itself only a so-so remake of another disaster in 1957. Much like Chernobyl, the Kyshtym disaster involved the release of a massive amount of radioactive material, untold casualties, and a swath of real-yet-unpronounceable place names.
Jan Rieke
Complicated somewhat here by the fact that this particular map is in German.
In 1957, the USSR was furiously trying to catch up to the U.S. in its nuclear weapons program. One of the weapons production facilities working on this great task was located in Mayak, Chelyabinsk, and was by all accounts a shitshow. Minimal safeguards to protect the workers from being turned into ghouls, a town built directly outside -- that kind of thing. In terms of industrial-sized gaffes, this is right up there with ... nothing.
US Army
Building a town next to a nuclear weapons plant is bad. Don't do that.
On September 29th, 1957, the plant's cooling system failed, triggering an explosion which catapulted a cloud of radioactive waste into the atmosphere. When it fell back to Earth, it contaminated 20,000 square km. There were evacuations, sure, but not everyone. At least a few people in the area were pressed into service, cleaning villages and burning crops to try to decontaminate the area. Decades later, the region is still a hotbed for cancer, "enjoying" a diagnosis rate five times higher than the national average.
The Soviets covered it up, because of course they would, but interestingly, that's only half the reason almost no one's heard about this. It turns out the CIA also helped cover up the disaster for decades. They had two very good reasons for this. First, they wouldn't be abiding by their remit if they weren't being colossal dickbags to someone, and second, they didn't want to cause any panic about the safety of nuclear energy in their own country.
Gallup
Mission accomplished!
The Ixtoc I Blowout Was

Deepwater Horizon

... 30 Years Earlier
US Coast Guard
In April 2010, a blowout of methane gas aboard the Deepwater Horizon drilling platform triggered an explosion and fire which engulfed the facility, sent it to the bottom of the ocean, and claimed the lives of 11 people. It was a disaster without precedent, so unexpected that BP was able to avoid filing a contingency plan for dealing with incidents like this and the resulting oil spills.
Which is too bad, because if anyone had bothered to read a goddamned history book or, like, this article, they'd know this exact thing happened decades earlier with Ixtoc I.
The Times-Picayune
Yet another way Cracked prepares its readers for successful careers in risk assessment and mitigation.
Ixtoc I was a Mexican oil platform drilling in the Gulf of Mexico. In 1979, a violent blowout ignited the facility and caused it to collapse into the sea. This destroyed the well, and with it any chance of stopping 20,000 barrels' worth of oil from gushing into the ocean each day. Turning off the flow was no mean feat. Experts from the world over, such as real-life firebender Red Adair, were drafted into the effort, and it took nine months for them to finally cap it.
Robert Baird
If you've spent most of your life inland, note that "ablaze" is not a normal condition for the sea.
There was one notable difference between Ixtoc I and Deepwater. Pemex -- the operators of Ixtoc I, and a state-run company -- successfully avoided most of their legal problems by declaring that they had sovereign immunity from the courts. That's a stunt BP didn't even try to pull off in the fallout of the Deepwater Horizon disaster, pleading guilty to felony manslaughter, obstruction, and a variety of environmental crimes and paying a $4 billion fine.
Hooray for progress? That'll make the shorebirds happy, we suppose.