You've got vacation time coming up. How are you going to spend it? Reclining on some exotic beach, drunk on fruity liquors and the mad power of a favorable exchange rate? Touring the cultural heart of Europe, in the mistaken hopes that it will get you laid? Sitting on your couch, power-binging seasons of shows that you don't even really like, because real vacations cost money? If none of those sound appealing, you could always visit one of the following locations, where the very word "vacation" is leant a sinister irony ...
Gawk At A War As It Happens
Uriel Sinai/Getty Images
A tour guide on the Israeli-Syrian border described it best: "People come here every day to see the show. For people visiting the area, it's interesting. They feel that they are a part of it. They can go home and tell their friends, 'I was on the border and I saw a battle.'"
Gil Eliahu / Haaretz
"It was a blast! Literally!"
Touring war zones is now a bona fide option for tourists who have (we're guessing) exceptional travel insurance. Offering destinations ranging from Mexico to Africa to the Middle East, companies like War Zone Tours lead thrill seekers directly into actual battles for the actual hell of it. On the Iraq trip, for instance, you can visit "the site of one of the largest car-bomb explosions in history," while those in Beirut may spend a day "driving through a Hezbollah rally" and rubbernecking "destroyed buildings from car bomb assassinations."
If you prefer a more hands-on war experience, Israel has a number of options to satisfy your unhealthy priorities. Lionops Military and Extreme Tourism offers a variety of programs led by former members of the Israel Defense Forces, in which you can learn everything from hand-to-hand combat techniques to guerrilla warfare strategy. Participants also get to fire M16s, Jerichos, Uzis, and whatever other weapons untrained civilians should never be handed, ever.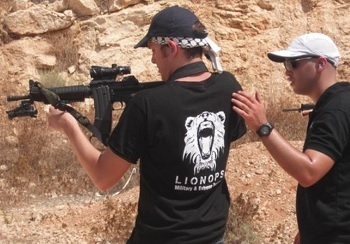 Karolyn Coorsh / The Jerusalem Post
The faces of terror: ISIS, Al-Qaeda, drunken bros in chinos with socks and sandals.
Brutal Murder Scenes Turned Into Bed And Breakfasts
Jim McIntosh
In 1892, Lizzie Borden was infamously tried for murdering her father and stepmother with a hatchet -- the worst thing associated with the Borden name right up until the '80s glam rock band.
The Borden family was quite affluent, so naturally, their swanky home in Fall River, Massachusetts has become a bed and breakfast. Specifically, the Lizzie Borden Bed & Breakfast Museum. Yes, it's devoted to the murders. Among the bookable rooms are the one in which Mrs. Borden was butchered, as well as Lizzie's own bedroom, complete with romantic double bed. When you're not busy testing the absorbency limits of the linens, you can tastefully recreate the crime scene photo of Mr. Borden's body on the couch in the sitting room.
Wiki Commons, LeeAnn Wilber
You might get a movie deal out of it.
Oh, and don't forget to pick up your Lizzie Borden bobblehead on your way out!
Lizzie Borden Bed & Breakfast
You'll get to make the same face as she watches you sleep from the shelf.
The next stop on your ax murder road trip is the rather self-explanatory Villisca Ax Murder House in Villisca, Iowa.
Jennifer Kirkland / Flickr
It's this one. Can't miss it.
We've already covered the gory details of the massacre, in which eight people -- six of them children -- were hacked to death in their beds. But now for the good news: You can spend the night at the crime scene!
It'll set you back $428 for up to six guests -- a little pricey, considering there's no electricity, plumbing, or fun novelty bobbleheads. On the other hand, there are also no judgmental eyes watching as you playfully desecrate a murder scene. When you rent the place, the owners simply hand you the keys and take off, only returning to collect the pieces in the morning.