Wouldn't it be awesome if your favorite superheroes came to life? Insurance agents would become billionaires. Spandex manufacturers could employ entire towns. Bank robbers would be, like ... so foiled. Extra foiled. But there would probably be some downsides, too. Like ...
Contract Laws Would Have To Be Rewritten
Warner Brothers Pictures
In the world of superheroes, death is little more than an unscheduled break between punching a bunch of assholes in discount Halloween costumes. Both Captain America and Superman, the blue-clad flagships of Marvel and DC, have "died" and came back to life more times than the Winchester brothers.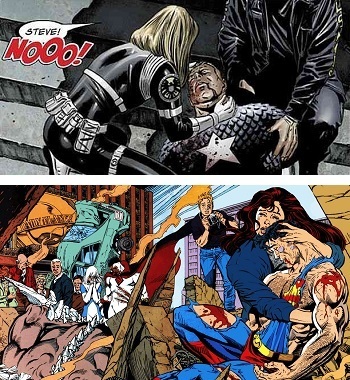 Marvel Comics, DC Comics
Nobody here is reacting in the appropriate manner, which is "Eh."
But while their returns from the Great Beyond were joyous occasions in the comics, in the real world, they'd cause total anarchy. Proving someone's death would become the biggest hassle ever. Every time you'd try to cancel your dead grandma's phone service or credit cards, Comcast or VISA would be all, "Yeah, but what if she was a Kryptonian or a super soldier, and will resurrect soon? Let's give it a few more months before we do something crazy, like stop billing her."
In superhero universes, death is probably treated like workplace injury -- everyone assumes you're faking it, and almost certainly hires investigators to catch alleged corpses coming back to life. In Netflix's Daredevil, there even exists a cult of ninjas with the ability to bring people back from the dead. Are they alive? Are they dead? Do they still owe Columbia House money?! That's something we'd need to figure out, and fast.
Marvel Television
They'll revive Elektra as many times as needed to get a decent spinoff out of her.
All of our existing contracts would have to be torn up and rewritten completely. On the plus side, newlyweds would get to say, "'Til death do us part ... barring one of us being an alien, or the work of occult ninjas."
Superhero Insurance Would Bankrupt The World
Marvel Studios
According to people with way more time and brains than us, the damage caused to New York in the first Avengers movie was around $160 billion. What's really depressing about that number, though, is that roughly zero percent of it would be covered by anyone's insurance.
Marvel Studios
And zero percent covered by Stark Industries. 'Cause shawarma and scotch aren't going to pay for themselves.
Some policies may insure limited "Acts of God," but that really only covers Thor's mis-thrown hammers. And even if someone wanted to argue that the Chitauri invasion was a terrorist attack, then that still wouldn't mean shit, because casualty and property insurance almost never cover terrorism. That all would have to change after the first real-life supervillain massacre.
Marvel Studios
Good luck suing the terrorists for damages when their mailing address is billions of light years away.
In a matter of days, super insurance would hit the market, and all of us would be required to buy it. We're not only talking about ordinary citizens; we also mean companies, schools, and restaurants all having to pay huge money to cover their asses in case of another alien invasion or a killer robot suplexing downtown.