Superhero fans now seem to exist in two distinct categories, based around whether or not they're intimately familiar with several decades' worth of the source material. For example, there is loud outrage when Superman breaks a dude's neck or Batman shoots up a street full of bad guys, presumably from people whose knowledge of those characters only go back to movies by Richard Donner and Tim Burton. If you dig back through the comics, however, you find that the moral histories of all of your favorite characters are messy, to say the least:
The Justice League Covers Up A Rape (By Mind-Wiping Batman)
DC Comics
DC's Justice League Of America consists of the cream of the DC universe crop -- Batman, Superman, Wonder Woman, and everyone else. As the name would suggest, the Justice League generally stands for justice and do-goodery, even if they do squabble amongst themselves and cover up the occasional rape.
Oh, yeah, that happened. In the 2004 Identity Crisis storyline, it's revealed that the villain Doctor Light once raped Sue Dibny, wife of the Elongated Man (DC's budget equivalent of Mr. Fantastic).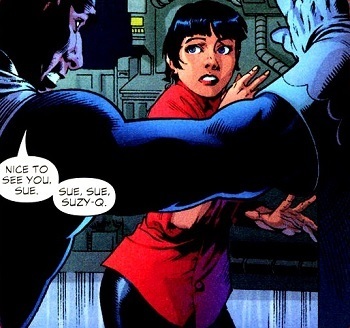 DC Comics
With dialogue from the worst Hostess snack cakes comic ad ever imaginable.
Now, introducing a rape storyline into a superhero comic involving well-known, established characters is never a decision that should be made lightly. But in Identity Crisis, DC went one step further into ill-advised territory by having the Justice League decide that the best way to deal with this issue was to use the magical powers of the lesser-known League member, Zatanna, to erase his mind. Instead of, you know, taking him to prison or something.
DC Comics
They took away all of his rapist tendencies except for the facial hair.
Of course, the writers of Identity Crisis didn't completely lack self-awareness. When Batman finds out about what his colleagues are doing, he immediately becomes the lone voice of reason.
DC Comics
What does Batman know about being ra- Oh.
So do the other heroes realize the error of their ways and relegate Doctor Light to the due process that makes American democracy great? Nah, they just decide to mind-wipe Batman as well, thus tying up the whole story into a neat little rape-apologist package.
DC Comics
"Add in a memory of me beating him at Monopoly."
"Superman, I don't think we really-"
"Add it in."
Superman Kills Zod (And The Rest Of The Kryptonians)
DC Comics
When Man Of Steel hit theatres, a lot of people were annoyed by Superman's callous murder of General Zod, an ending that seemed to fly in the face of everything the titular Man Of Steel stands for. Every Superman fan knows that the Last Son of Krypton's one unbreakable rule is that he never kills people.
You know, except when he does.
You see, in the comics, Superman totally does kill Zod. And unlike in the movie, Superman doesn't even really feel that bad about it. In a 1988 storyline, Superman battles Zod and his Kryptonian cronies, ultimately stripping them of their powers and locking them in a pocket universe once again. As usual, the villains vow revenge and promise to return to Earth one day.
DC Comics
"When a comic book writer has no new ideas but deadline is in an hour ... we will be there."
But this time, Superman decides that he doesn't want to keep going through the same old bullshit over and over again so, with the inscrutable calmness of a serial murderer, he uncorks a canister of Kryptonite and fucking melts them with a wave of space radiation.
DC Comics
Oh, for the days when wrecking shitloads of cars was the biggest dick move of Superman's career.
Rather than administering a few quick neck-snaps, Superman offers a throwaway line about this being the hardest thing he's ever had to do, and then stands there with a distinct lack of anguish as his enemies slowly and painfully fall to their knees and die, begging for their lives. Zaora, the female villain, even offers herself as a sex slave with her final breath, in a desperate abandonment of dignity and pretense. Superman reacts to this as if she offered him a shitty baseball card trade.
DC Comics
"Like you ever could've competed with the Hand Of Steel, anyway."
Say what you will about Zack Snyder, but at least his Superman never tortured a woman to death.