Hunger is one of humanity's most basic, primal motivators -- a fact that businesses have been using to manipulate people and get rich since we first figured out which berries don't give us the death poops. Everyone knows that food commercials are just the fakest goddamn fakes that ever faked, but we sort of assumed restaurants are more honest than that. After all, how could they possibly trick you when you have a dish right in front you?
The answer, it turns out, is "very easily," thanks to devious ploys like ...
Where You Sit In The Restaurant May Determine How Much You Eat
william87/iStock/Getty Images
Want to spend less at restaurants? Channel your inner Swayze and don't let them put you in a corner. The reason is pretty simple: People who sit in well-lit areas and/or by a window (so, in plain view of judging eyes) order healthier food than those in dark, hidden places where they are free to indulge their gluttony under a dark canopy of shame. And the waiters know this, of course, so they'll try to steer larger parties to the more secluded spots.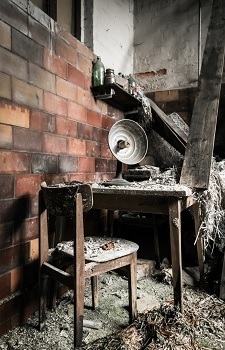 Herzstaub/iStock/Getty Images
"I promise you, mademoiselle, this is the best table in the whole establishment."
What's more, according to preliminary research from Cornell University, sitting far from the front door prompted customers to order more desserts, probably because you're piling on calories for the long walk back to the car. Even the shape of your table can be used to manipulate you -- Starbucks' small, round tables are designed that way to make the customer feel more comfortable when they're seated alone, so they'll stick around for longer. Which is important, because the Starbucks experience is like 10 percent coffee, 90 percent looking cool in front of strangers.
monkeybusinessimages/iStock/Getty Images
This guy was stoned to death with blueberry muffins for not bringing a Mac.
On the other hand, some restaurants go as far as designing their venues to try to force customers to eat and clear out for the next lab rats to shuffle in. When diners sit in the center of the room, exposed to the action of the business, they'll be less comfortable and unlikely to hang around. The chairs are also made intentionally uncomfortable, so those snarky waiters aren't always the only pain in the ass. You know a restaurant actually wants you to stay in it when the seating is more convenient and the chairs are nicer than your bed.
RADsan/iStock/Getty Images
Stay here, however, and you'll be wailing in pain louder than that poor chair is.
So next time you eat out, pay attention to where you sit; it might end up determining whether you can stand back up again.
Getting A Free Chocolate With Your Bill Guilts You Into Tipping More
Evan Amos / Wiki Commons
You know you're in a fancy-ass establishment when it comes time to ask for the check and they actually pay you. Some restaurants give you a little complimentary piece of candy with your bill, as if to inform you that you performed well as a client and are allowed to come back. Aw, isn't that nice? They did something nice for you, expecting nothing in return.
Well, guess what, motherfucker: You just got played.
Mike Flippo/Hemera/Getty Images
They're not content with leaving a hole in your wallet: They want one in your tooth, too.
A group of researchers at Cornell set out to determine the effects of complimentary chocolate on restaurant tipping, because they have to study something now that all known diseases have been cured forever. They found that when customers were given a small piece of chocolate with their check, they tipped more than customers who received no reward. Not only that: The more free chocolate you get, the more money you leave on the table. No wonder the Easter Bunny has been doing his job for no salary for so long -- he's making a killing in tips.
Cornell University
Amount of patrons who exploded: undetermined.
And it's not just chocolate: previous studies (seriously, did we already conquer the entire universe and no one told us?) concluded that writing a helpful message, a simple "thank you," or even just drawing a happy face on the bill increases the tip considerably too. The most likely explanation for this is the norm of reciprocity. In human language, that means that people generally feel obligated to repay acts of generosity even when they weren't expected or requested. This can pay off massively for servers: Those who handed out sweets ended up getting around a 20 percent increase in their tips for very little cost. That kind of money builds up if you're dishing out sweets for every customer each shift. If you're the kind of person who prefers to tip minimally, don't take candy from strangers.