You ever get frustrated because your favorite TV show is only available on one of the hundred streaming services that you don't subscribe to? Or when an upcoming game is announced as a permanent exclusive on a console you don't own? The same question always comes up: Don't artists want us to see the thing they make? Why not just release it everywhere?
But the truth is if you're a superfan who wants to see everything a particular creator has made, you're often in for a strange trip indeed. That stuff tends to turn up in the weirdest places. Like ...
You Can Find Neil Gaiman's Work In

SimCity 2000

And On Chipotle Cups (If You Look Hard Enough)
Darryl James/Getty Images Entertainment/Getty Images
Even though he hasn't really written anything that can be referenced among non-geeks, Neil Gaiman is probably one of the most versatile authors of our generation. So far, he's written comics, movies, short stories, television shows, songs, picture books, video games, and essays in video games. Yes, there's a difference between the last two. For example, this is writing in a video game:
Electronic Arts
Where's the damned "Accept" button?!
That is a short essay written by Neil Gaiman that appears in SimCity 2000, a video game that allows you to design and build your own city before ultimately destroying it with the Incredibles robot. However, if you built a library in the game, clicked on it, and then selected "RUMINATE" you'd be taken out of your apocalypse fantasies and into Gaiman's mind where you'd learn about how cities are sort of alive and will totally eat your face. "Don't ever take a city for granted. After all, it is bigger than you are; it is older; and it has learned how to wait ..."
Electronic Arts
... Something players would also have to later learn.
It's not exactly a new novel, but it is original Neil Gaiman writing that virtually no one saw. And that, oddly enough, brings us to Chipotle.
You all know it as the chain of restaurants for people craving faux-Mexican but with too much self-esteem to set foot in Taco Bell. For the past year or so, they've been running their Cultivating Thought initiative where they print inspirational, original prose on their cups and bags for customers to read. Or rather, to completely ignore, since their best chance to see the text is while it's partially obscured by their own greasy thumb. If you did happen to look through the guacamole stains you'd see that Neil Gaiman wrote for one of their cups, and it was even more haunting than his Cthulhu-esque musings on cities.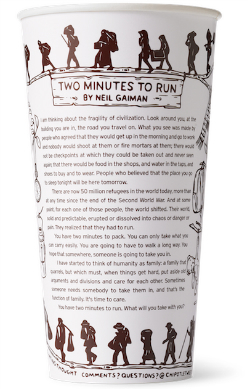 Chipotle
We'd make a diarrhea joke about that title if Chipotle wasn't so goddamn good.
Gaiman's Two Minutes To Run is a disturbing read about people in Syria abandoning their homes and escaping into a refugee camp, with only two minutes to decide what they should carry with them. If that sounds like the last thing you'd want to read while enjoying a burrito, fear not, as other, slightly less depressing big-name authors have also contributed to Chipotle's Cultivating Thought, like Malcolm Gladwell, Jonathan Safran Foer, and Pulitzer Prize-winners Toni Morrison and Jeffrey Eugenides. What percentage of customers would you say actually noticed and read the text, versus those who just assumed it was a bunch of meaningless slogans that no one has time to read during their 30-minute lunch break? The very existence of these writings either speaks very highly about Chipotle, or very badly about the post-Pulitzer job market.
You Have To Join A Shitty Website To Learn How

Harry Potter

REALLY Ended
Warner Bros.
Even if you aren't a fan of the dramatic story about a little orphan who suddenly finds out he's a super-talented millionaire magician with tons of friends, you have to admit that Harry Potter succeeded in convincing an entire generation of attention-deficit kids to read several thousand pages of books. The announcement of a new Harry Potter novel would make even bigger headlines than the Star Wars sequels. Entire forests would be razed just to handle the preorder volume alone.
But you probably didn't know that J.K. Rowling has been cranking out tons of additional Potter material for years ... it's just that you can only find it on Pottermore, Harry Potter's official website that, true to the spirit of the books, was clearly designed by someone with only a passing knowledge of Muggle technology.
Warner Bros.

To get inside Pottermore, you have to take a personality quiz that'll sort you into one of the four houses. Once there, you'll have access to point-and-click chapter summaries with hidden additional info about the wizarding world. The site also features exclusive new writing from Rowling about stuff like Professor McGonagall's life before Hogwarts, or a Quidditch World Cup report that bizarrely serves as the true epilogue of the whole Harry Potter saga.
The report, written by Rowling as one of her characters, makes a couple of mentions about Harry, Hermione, and Ron, who attend the cup. Thanks to it, we learn that, for example, Ron has started to go bald, but not enough to hide the fact he's ginger. What else? Well, Hermione is doing great at her job, and Harry is now sporting a new scar, which is never explained but we think clearly hints at a future Harry Potter spin-off about Wizard Fight Club.
20th Century Fox, Warner Bros. Pictures
Wait, we were just kidding, but HOLY SHIT, this could actually work!